Analogue Wonderland Turns 3!
Posted on May 17 2021
Update Friday 21st May 2:30pm
We are now down to the very last Scratch Cards and stickers. Thank you all so much for your engagement and involvement this week! We are going to work hard on getting your orders out across the rest of today and tomorrow, and then we're going for a lie-down 😂
🥳 Happy Birthday Analogue Wonderland 🥳
We turn 3 tomorrow, on Tuesday 18th! It has been quite a journey to get here: even in the last month so much has changed. Our team is rapidly growing and we are looking to move again in the summer - into a new, bigger space - so we can stock even more lovely film supplies for you all! 🎞
But this isn't really about us. This little independent company could never have existed - never mind survived the past three years - without the fantastic film community supporting us with love, ideas, orders, shout-outs, referrals, writing reviews, sending suggestions and more.
In recognition of that fact we have cooked up some fun activities to say 'Thank You!' for all that support 😊
So without further ado: on the occasion of our 3rd birthday, here are the 3 things that are coming up across the next week...
---
1 - Birthday Scratch Cards!
Starting with all new orders placed from this morning, Monday 16th, every parcel this week* will go out with a specially-produced birthday scratch card! And, most excitingly...
...Everyone's a winner 😆
That's right! We've designed it so that every single scratch card will contain a prize. Maybe you'll get a FREE film-related pin for your camera bag, maybe you'll get a 5%, 10% or 25% discount off your next order, or maybe you'll get the grand prize itself: 50% off your next order!!**
We've printed a set number of scratch cards - so when they're gone, they're gone.
Don't wait! Place an order now and you will automatically receive a scratch card alongside your films - with prizes guaranteed in all.
*New orders only. While stocks last **Discounts on future orders apply up to maximum spend of £200
---
2 - Limited Edition Birthday Stickers
We know how much you all love receiving your stickers in the post with your orders.
Well, for this week only* we are releasing a special, limited edition holographic birthday sticker! It will make a very cool addition to your collection and they are sooo shiny! 🤩 The design features a film canister beautifully displaying our signature triangle logo print and some birthday themed pictures on the negative.
We got these special holographic stickers from Sticker Mule, they have a great range of all kinds of merchandise and made the designing process super easy, sending us multiple proofs before hand to make sure we were happy. Definitely worth checking out for all your sticker needs!
We had a lot of fun designing this special sticker and hope you like it, we think it is a wonderful memento of our three year anniversary.
*While stocks last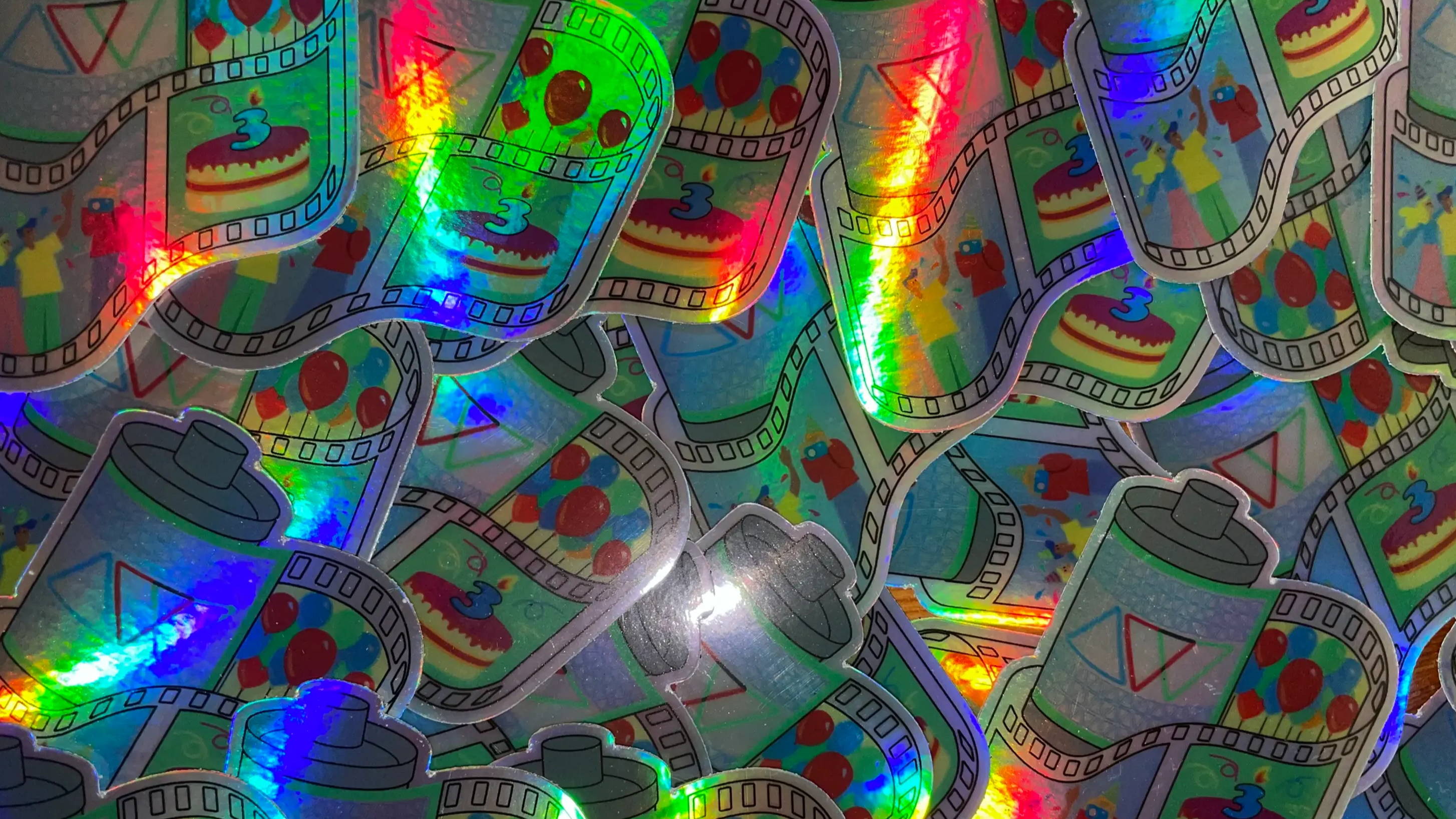 ---
3. Instagram Birthday Fun!
We shall be running some interactive games on our Instagram account from Wednesday onwards, with the chance for several of you to win lots of lovely WonderPoints 🤑
We will also be sharing lots of behind the scenes birthday madness on all our social channels so keep your eyes peeled!
And most exciting of all, Emma managed to persuade Mary to sit in front of the camera and answer some community questions about her opinions on running the business and working with Paul 😂 It's going to be brilliant...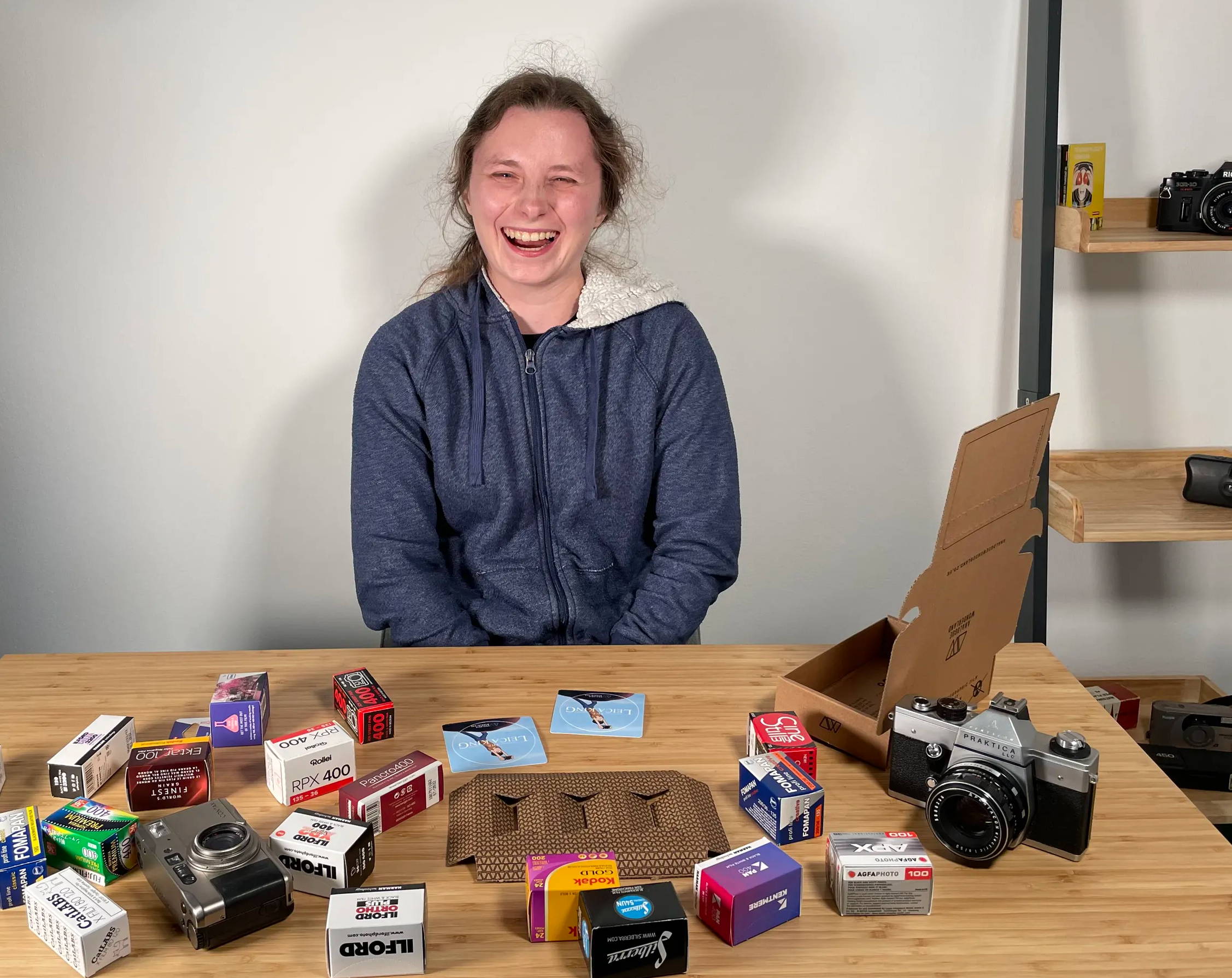 Emily, loving life 'behind the scenes' 😅
---
Good luck and Happy Shooting!
- Paul, Mary, and the rest of the AW team