Building a List for Santa
Posted on December 05 2021
Are you looking to add some film photography into your Christmas lists but worried that Santa (or family/friends!) won't necessarily understand the intricacies of what you're after? Maybe they pick-up the wrong speed of T-Max, or get confused by format?
Well this is the article for you!
Because in fact we have THREE methods of helping the folks who love you pick the right item, without ever needing to ruin the surprise 🤩
---
If you are logged into your customer account and press the little heart from any product page - on our website OR app - then the product will be immediately added to your personal wishlist!
When you're happy that your Wishlist represents all your hopes, desires and cheeky requests for the season 😆 then it is super-easy to share with your loved ones.
Simply head to the heart at the top right of the website (on desktop or mobile), open up the wishlist you want to share - and press the three dots at the top to Share via email, Twitter, Facebook, or copying the link to pop in a text or WhatsApp 📨
You can watch this super-fast video to see it in action:
---
Perhaps you are a true analogue-enthusiast and would prefer a physical letter to send to your loved ones?
Well we can help there as well with our patented* pre-written letter!
Simply download the blank letter from this link here - fill in the relevant sections and leave it around the house for natural discovery, or pop it in the postbox with a stamp to the North Pole.
See below for an example letter from Paul...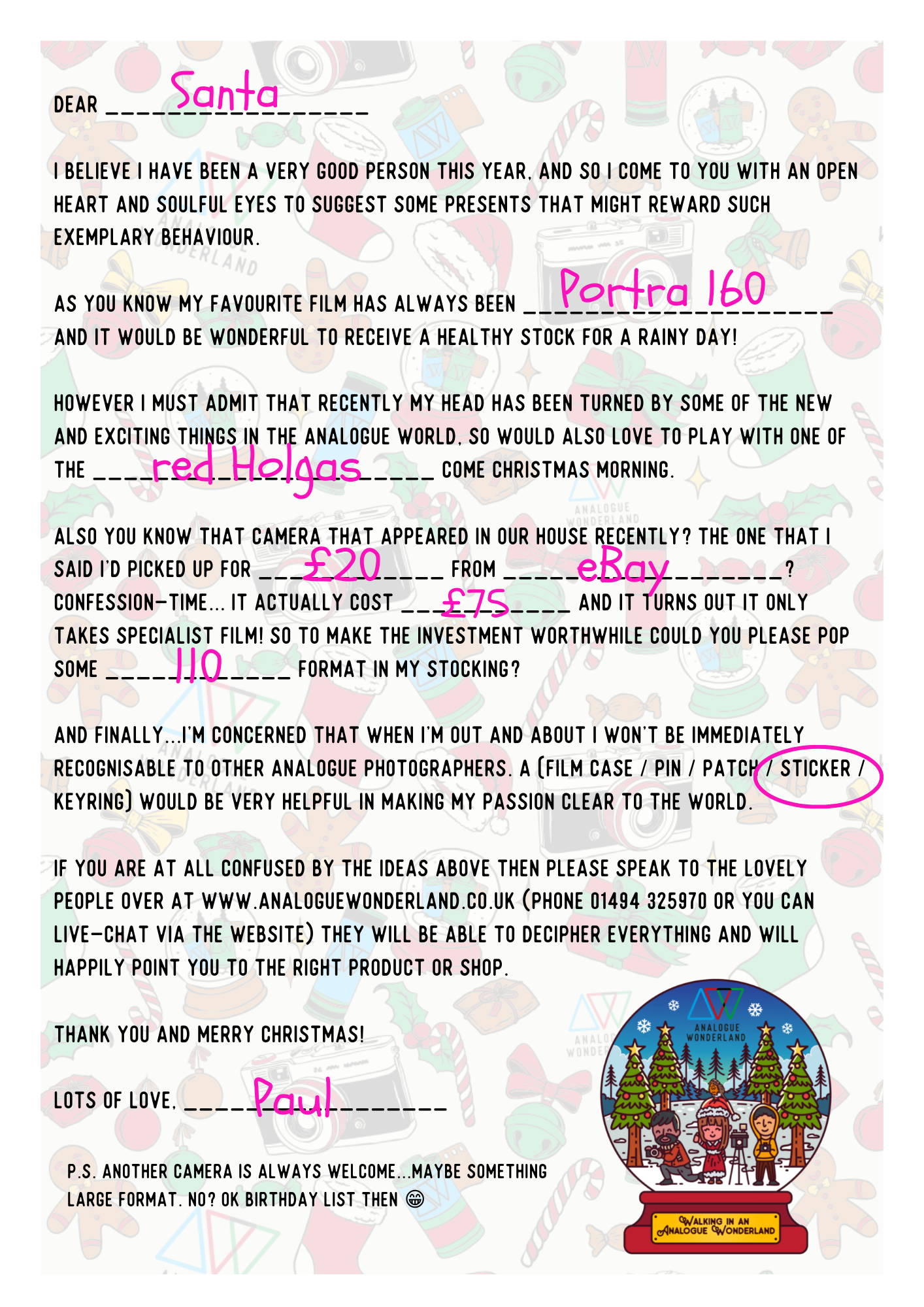 ---
And finally - you can send your loved ones directly to our live chat, email or phone!
The team (particularly the wonderful Emma 😎) are on hand to answer any questions, help folks to navigate the different films and options that are available - and provide personal recommendations based on any information they have.
Just point them here and relax, knowing that we will make sure they're looked after and happy. Even if we don't stock the particular items you're after, we will make sure that they get directed to the right person from the analogue community who can help.
---
Happy Shopping and Shooting!
- Paul, Mary, and the full AW team
*not really patented 😂