Female Voices in Film: Rachel Steele
Posted on March 04 2020
As part of our celebration of International Women's Day on the 8th March we are interviewing different female members of the film community, asking the same questions to each for a snapshot of different perspectives and thoughts.
Today the spotlight rests on Rachel Steele!
NB: due to the nature of Rachel's work, the following article contains NSFW imagery.
---
Rachel - thank you for your time. What is your film photography background?
I only very recently got into photography- I co-run Harpies which is an LGBTQ+ strip club centering Trans & Non Binary bodies in East London (the first of its kind!) and we wanted to document each night, however we have a strict no photography rule for the guests in the club and couldn't afford to hire a photographer, so I decided to do it myself.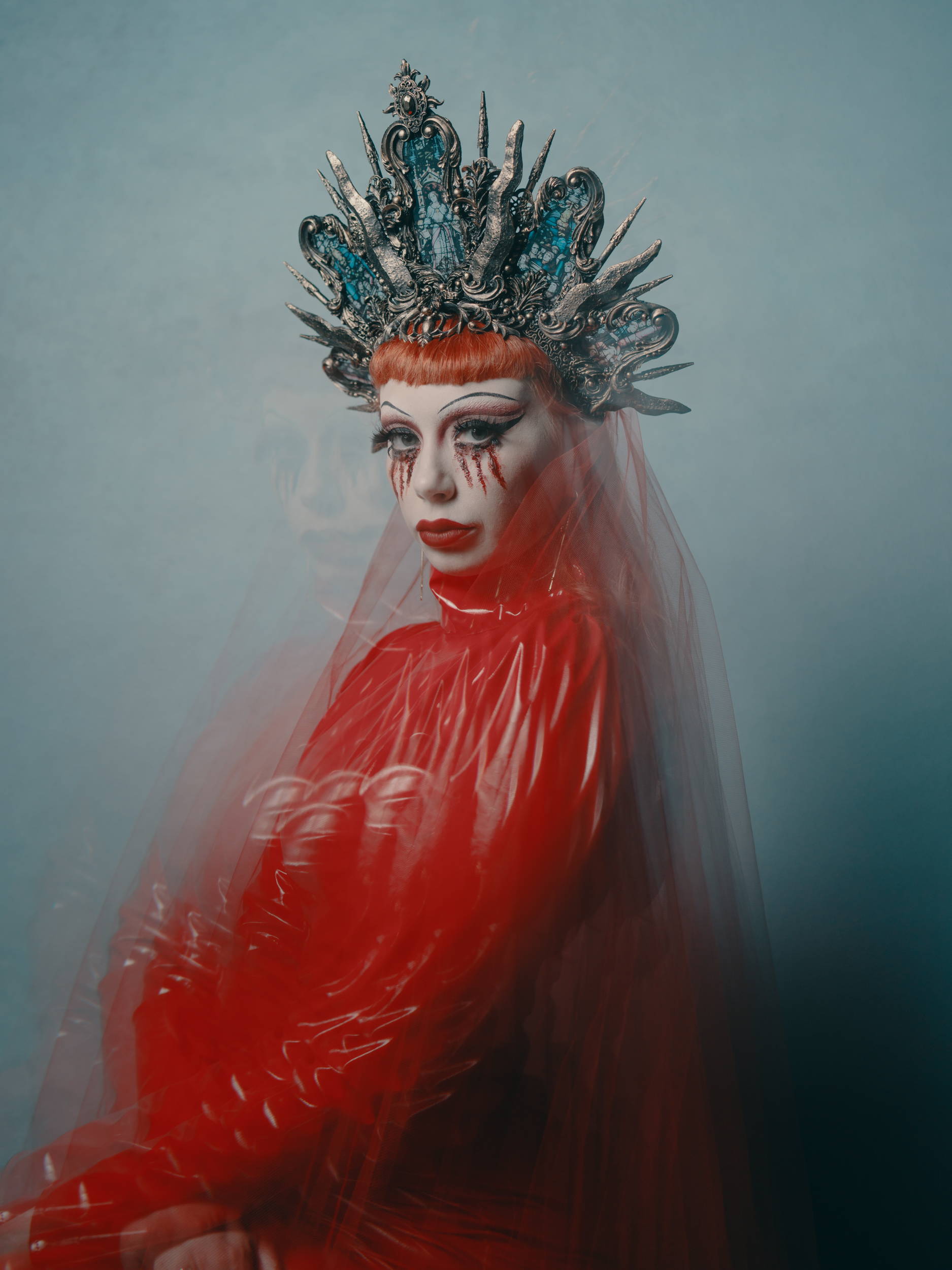 ---
How did you get into film?
I just like the look of old stuff! Film photographs look much more beautiful to me than digital. I love the anticipation of the development, and not knowing how things are going to turn out straight away.
---
What is the film photograph you're most proud of, and why?
I love this photo of Lucia Blayke I took last weekend. Harpies was Lucia's idea! She wanted to be a stripper but unfortunately, strip clubs are not usually trans-inclusive at all, so she decided to make her own. I am proud of this photo because I am so proud of what she and all of us as a Harpies team have achieved. Last year, Lucia conducted a protest against London Fashion Week for not being trans-inclusive. Their response this year was to put us on the official LFW afterparty schedule, in collaboration with He She They. Lucia's determination and ability to get things done is astounding. Plus, she looks absolutely stunning in this photo!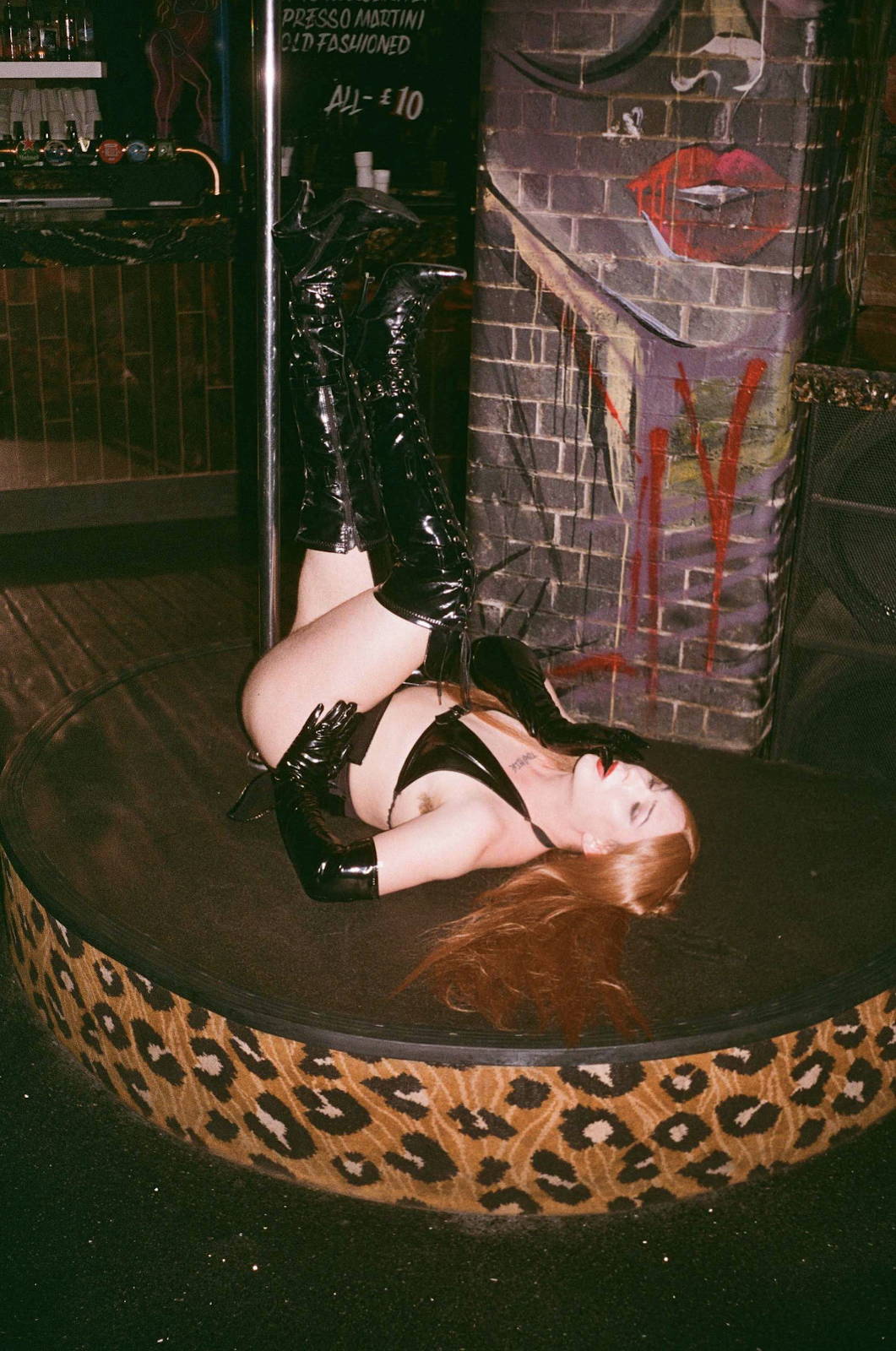 ---
What is your favourite camera/film combination?
So far I have just been using my Olympus Trip as that is the first film camera I got my hands on. I was recently gifted my grandfathers Zenith which I am yet to properly use. It is in totally pristine condition, complete with receipt and instructions. I am a bit scared to take it to the club!
As for film, I love all the creative films from Analogue Wonderland. I really like the Revolog Tesla 1, 2 & Kosmos, Dubblefilm Bubblegum, Yodica Andromeda and recently have been using Lomochrome Purple which looks gorgeous when used for portraits in the club. I feel that the creative films are perfect for Harpies as they are fun to use and match our neon lights!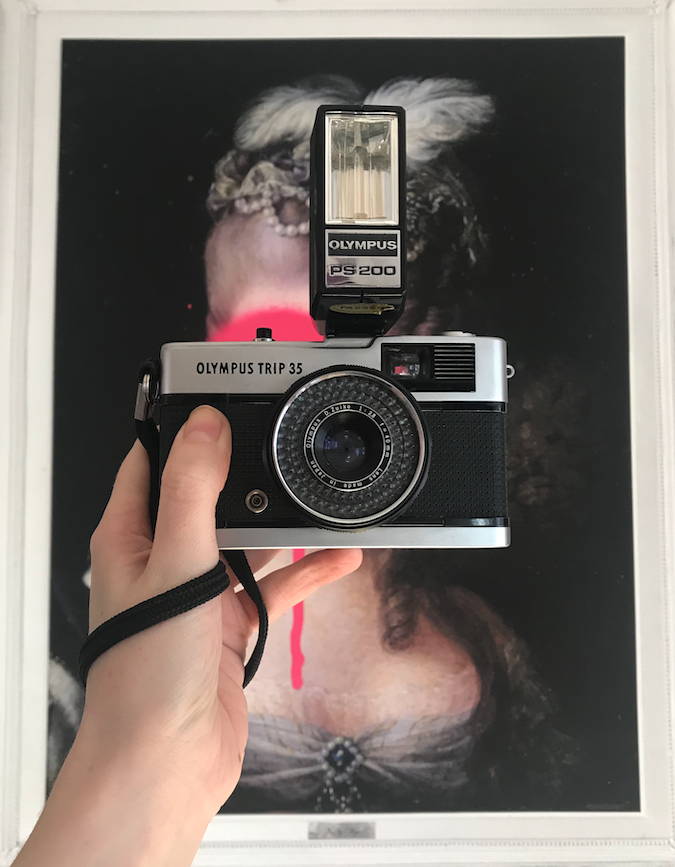 ---
Who is your favourite (famous or not!) female film photographer?
I am currently studying Performance Design & Practice at Central Saint Martins and I mainly work with self portraiture through moving images, so it would have to be Cindy Sherman!
I recently had a one-to-one photography lesson with Sarah Emma Smith (@35mm.ses on Instagram) and her photos are just stunning, she is also a wonderful and interesting person.
I also love Roxy Lee (@sausageandcustard on Instagram) as she has photographed the Harpies dancers and many iconic nights in London. If Roxy is photographing an event, you know it's cool.
---
What could the community do to support your personal film photography endeavours?
Come to Harpies! Buy tipping dollars and make it rain on the strippers, so I can get some shots of them in action! We are open every Friday 10pm-5am at Metropolis, London E29NN.
We are the only strip club in London who do not charge a 'house fee' to dancers or take a cut of the dancers earnings. Any tipping dollars you buy goes directly to the Harpies and no one else!
You can also follow us on instagram @harpiesinthesky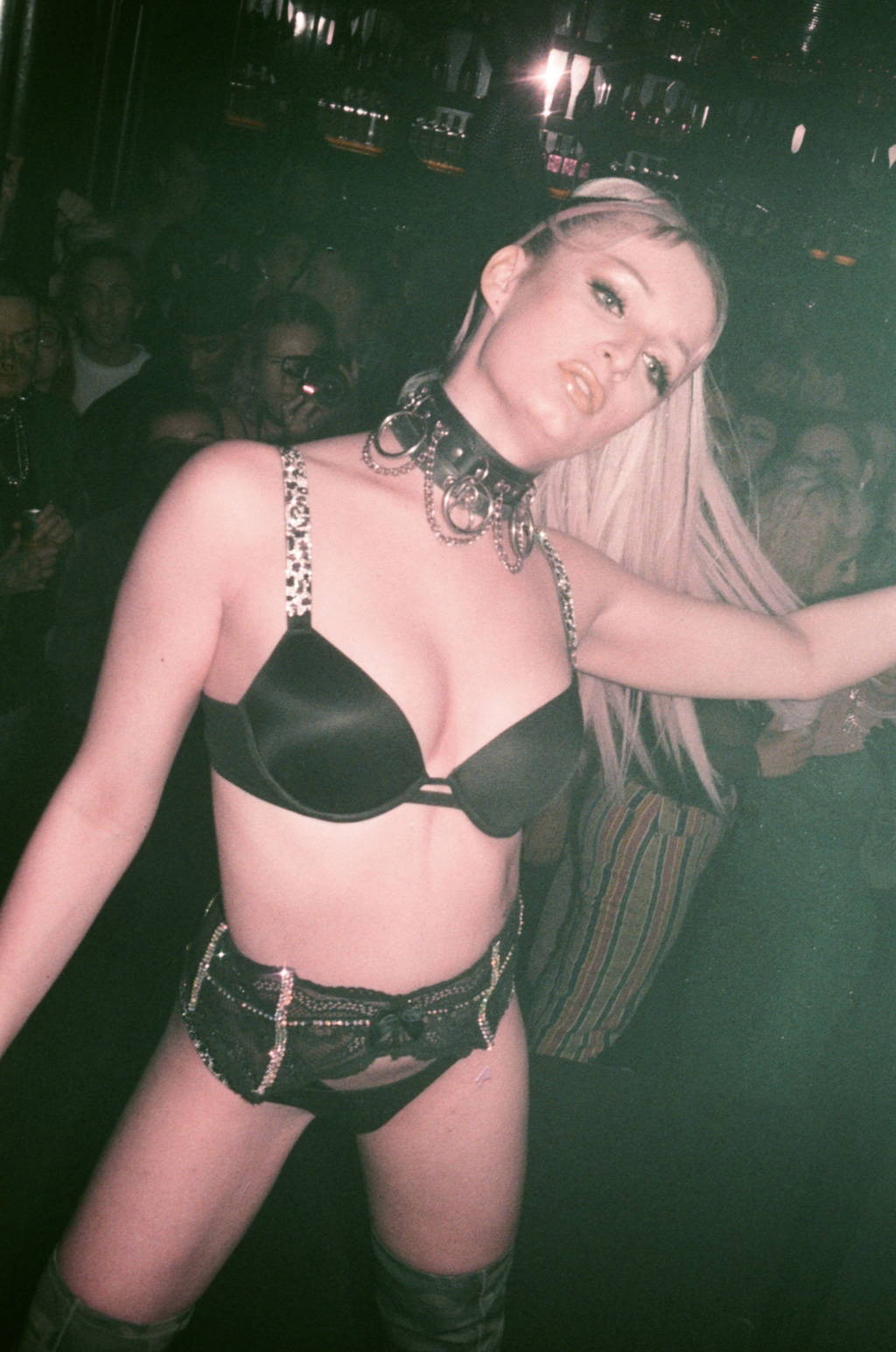 ---
What could the community or industry do to encourage more women to start shooting film?
I think it would be great if more women knew about Sarah Emma Smith's photography workshops, that would certainly encourage them!
---
What could the community or industry do to encourage more women to continue shooting film?
I would love to see lots more exhibitions by womxn-only photographers! Most of the film photographers I know are women so they aren't hard to find.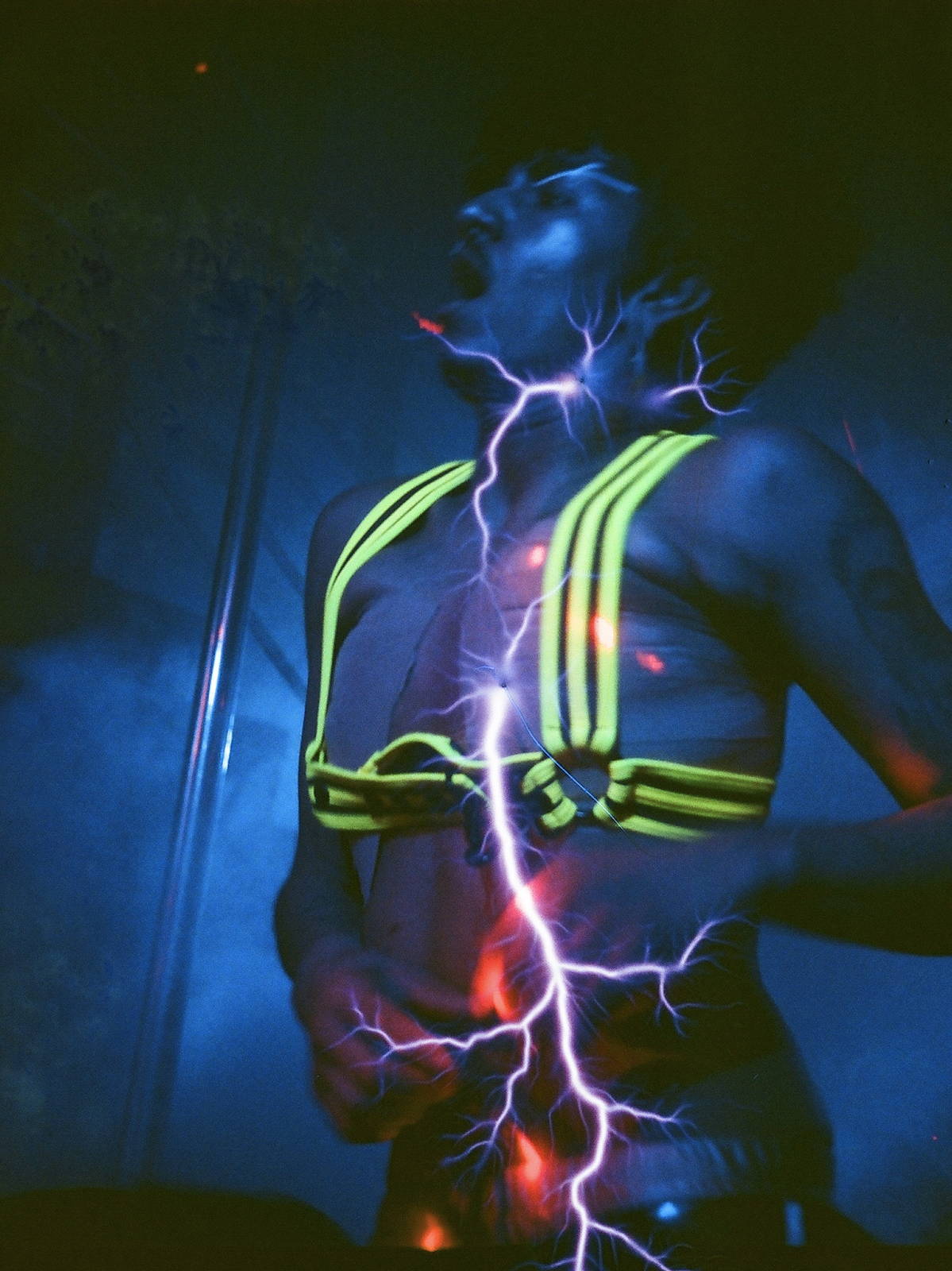 ---
Is there anything in particular you want to highlight/explain/address related to film photography and International Women's Day?
I was upset recently to learn that a photographer that we invited into the club to take photos of the dancers as a 'uni project' then went on to sell prints of the dancers without compensating them. It is NOT okay to profit off the images of sex workers in this way. Had we known this was going to happen we would not have let her in. Since that happened, we have not and will never allow an external photographer to take photos of us.
---
Is there anything else you'd like to say that hasn't come up naturally in any of the questions above?
I think the photos I take are special to me as I have a friendship and work-relationship with each person I photograph for Harpies. They may not be professional quality but I am documenting a really important event that I am so proud to be a part of. The photos mean a lot to me as I love all the people I am photographing.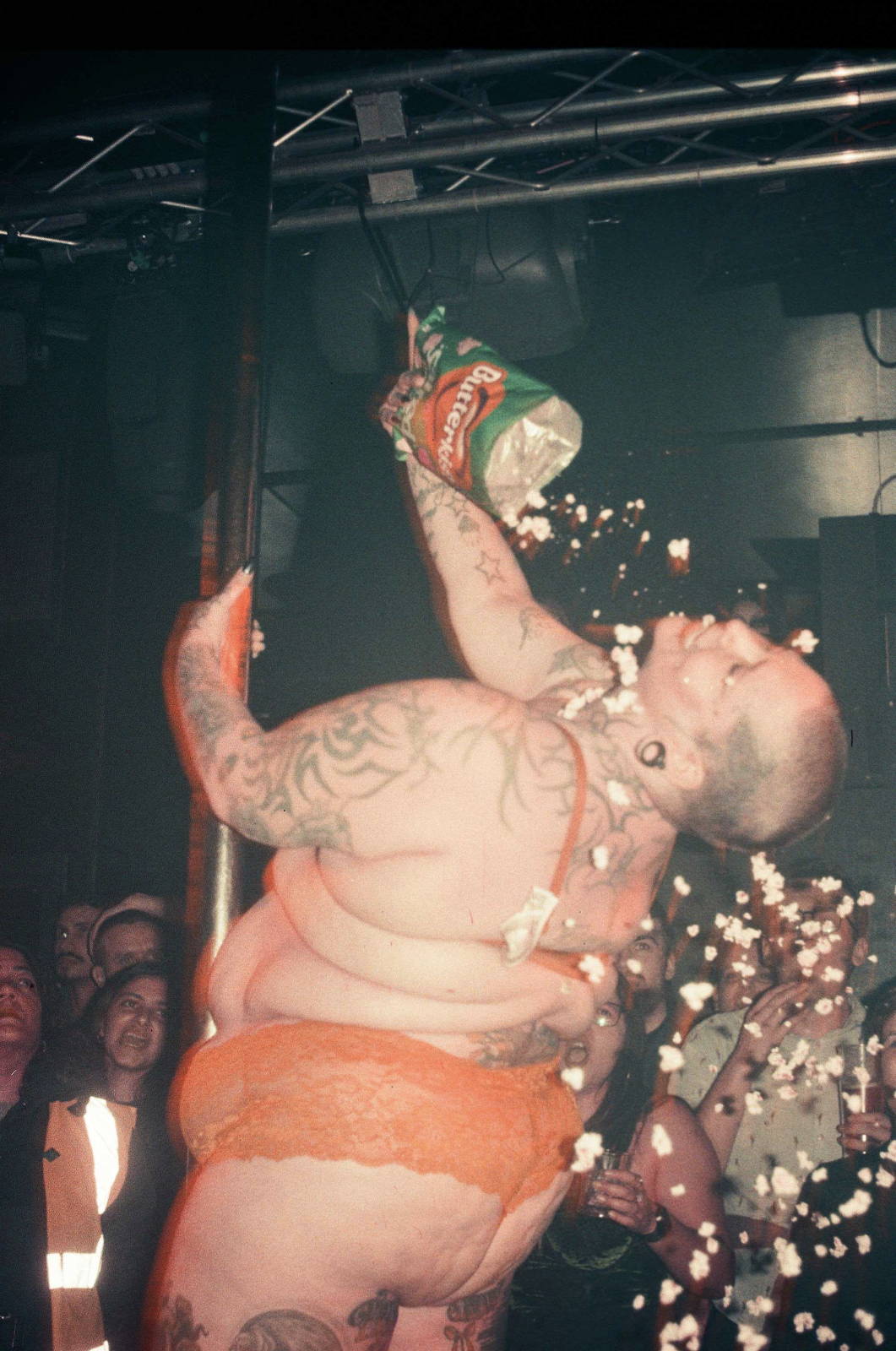 ---
Where can people find you and your work?