Cameras by Max the Interview
Posted on June 18 2021
Max of Cameras by Max has recently set up an online camera store! Max studied photography at UAL and set up their online shop in the first lockdown. It is a wonderful website, educational website and also a great place to shop for all your camera needs! Max's social media presence is also brilliant, my favourite recent content being their 'rating celebrities film cameras' tiktoks. Cameras by Max is an LGBTQ+ owned store, so it is great to know that you're supporting the community too.
---
My favourite CamerasbyMax Tiktok, rating celebrities based on their film cameras!
---

My name is Max and I run Cameras By Max, an online 35mm film camera store! We specialise in SLR and point and shoot cameras for photographers of all abilities. I'm 22, use they/them pronouns and I'm a Sagittarius (no-one asked, but I'll tell you anyway).
---
What made you want to set up your own camera store?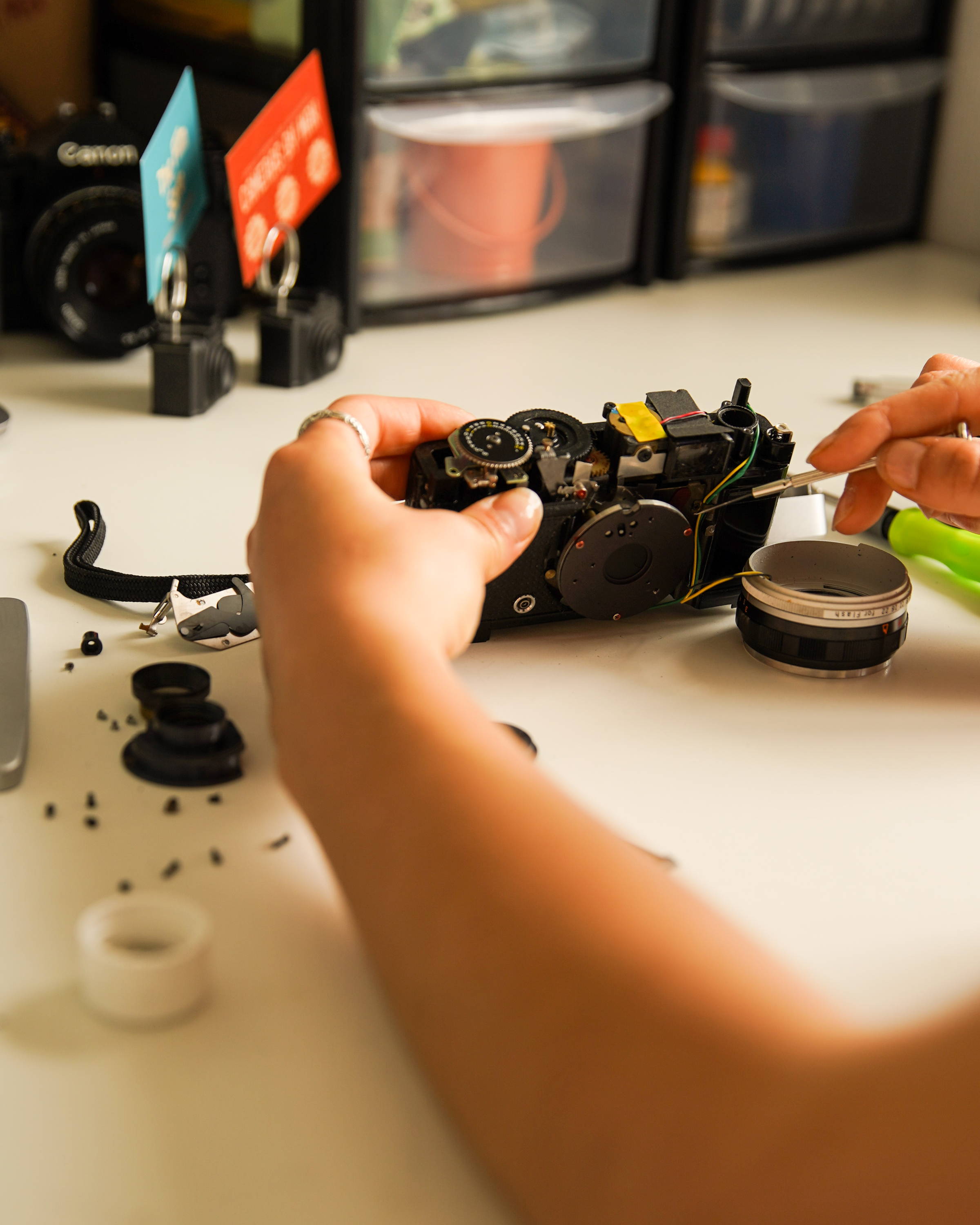 ---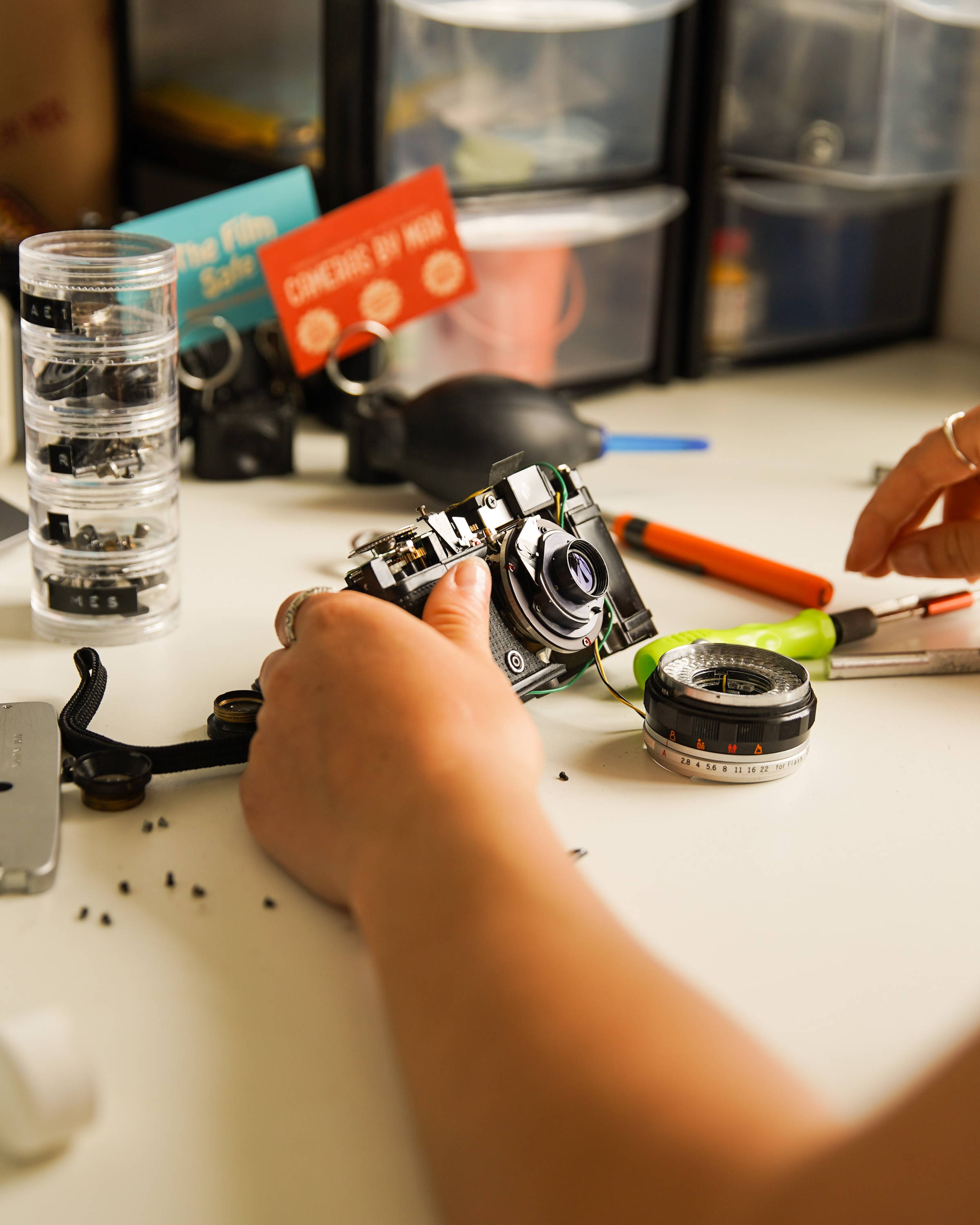 Running a shop like this and fixing analogue cameras really isn't something you just trip and fall into doing, so there is actually a bit of a story here! In 2018, my film camera stopped working, so instead of being a normal person who would take it to a repair shop, I went, "AHA, I will take it apart myself!" This literal "AHA" moment was whilst I was in the centre of Paris and I just happened to have a micro screwdriver with me (I think this is just a glasses' wearer thing). I fixed it, thankfully, and really enjoyed doing it, so I bought a few broken cameras, and fixed those too. Then I realised how many broken cameras there are out there in need of fixing. Nothing breaks my heart more than knowing there are these amazing cameras out there not being used that just need a new piece or to be taken apart and serviced. The shop just kind of happened, I guess. I suddenly had loads of cameras and nothing to do with them, so Cameras By Max was born.
My main goal has always been to repair as many cameras as I can and stop them from ever being thrown away or going into landfill. I am a big environmentalist and I see our work as helping the environment as well as the creative community. We use recyclable packaging, only sell vintage cameras, and we plant trees!
---
What sort of work do you typically create personally?

Pre-Covid, I was a live music and film set photographer. Whether I will ever go back to it or not, I don't know! But I love documenting people. When I was at university, all I wanted to do was be in the studio with my queer friends and I had so many shoots booked when we went into the first lockdown.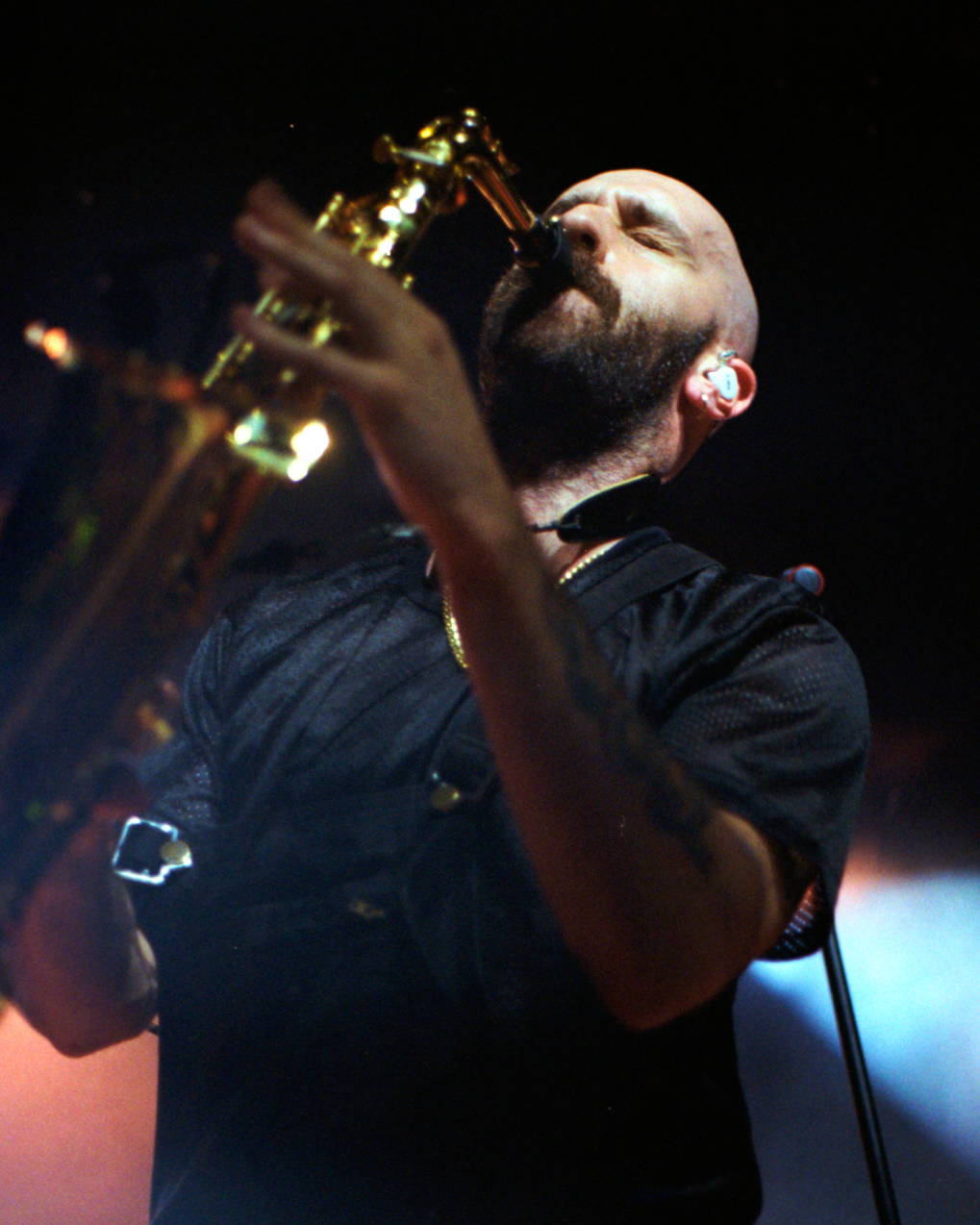 Some of Max's photography at live music events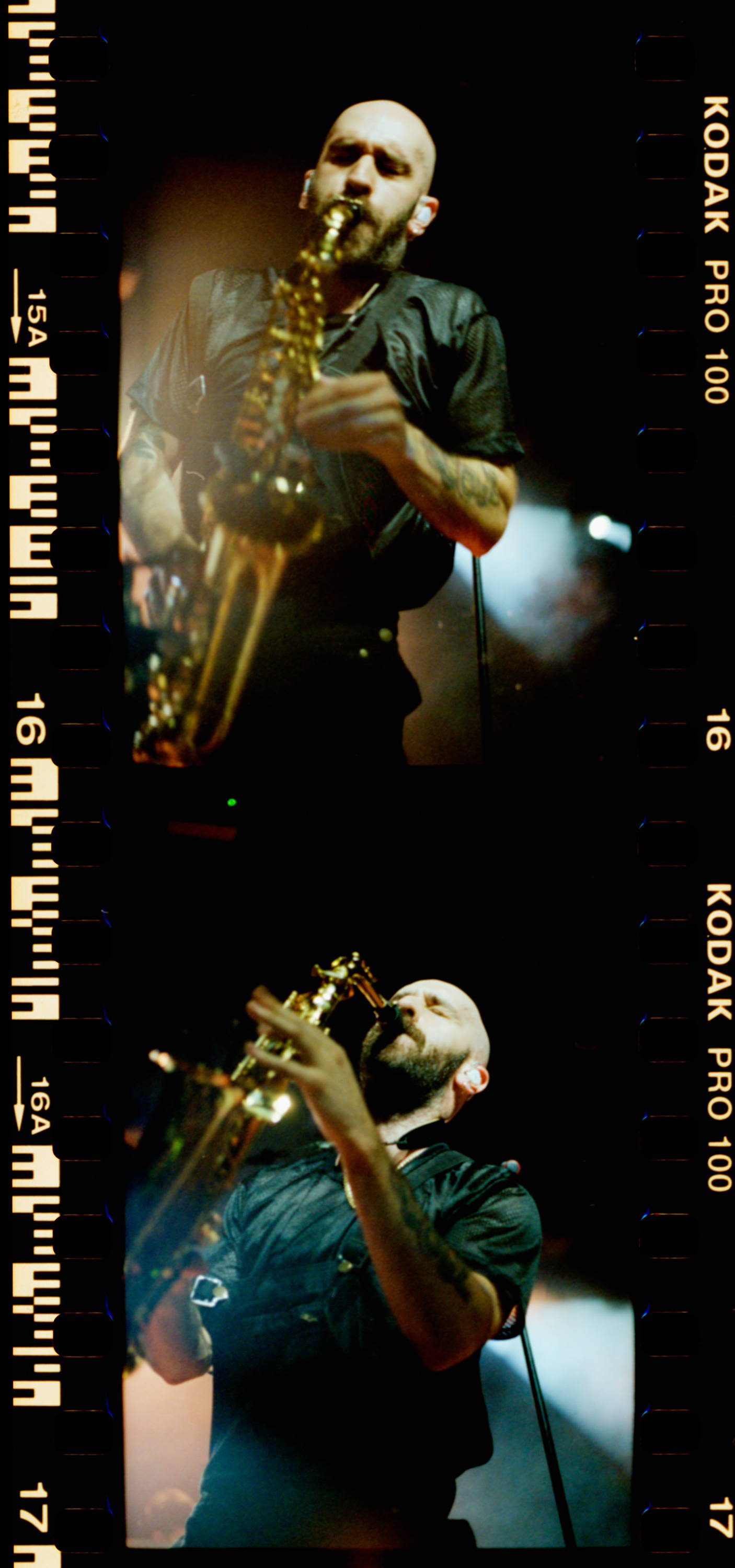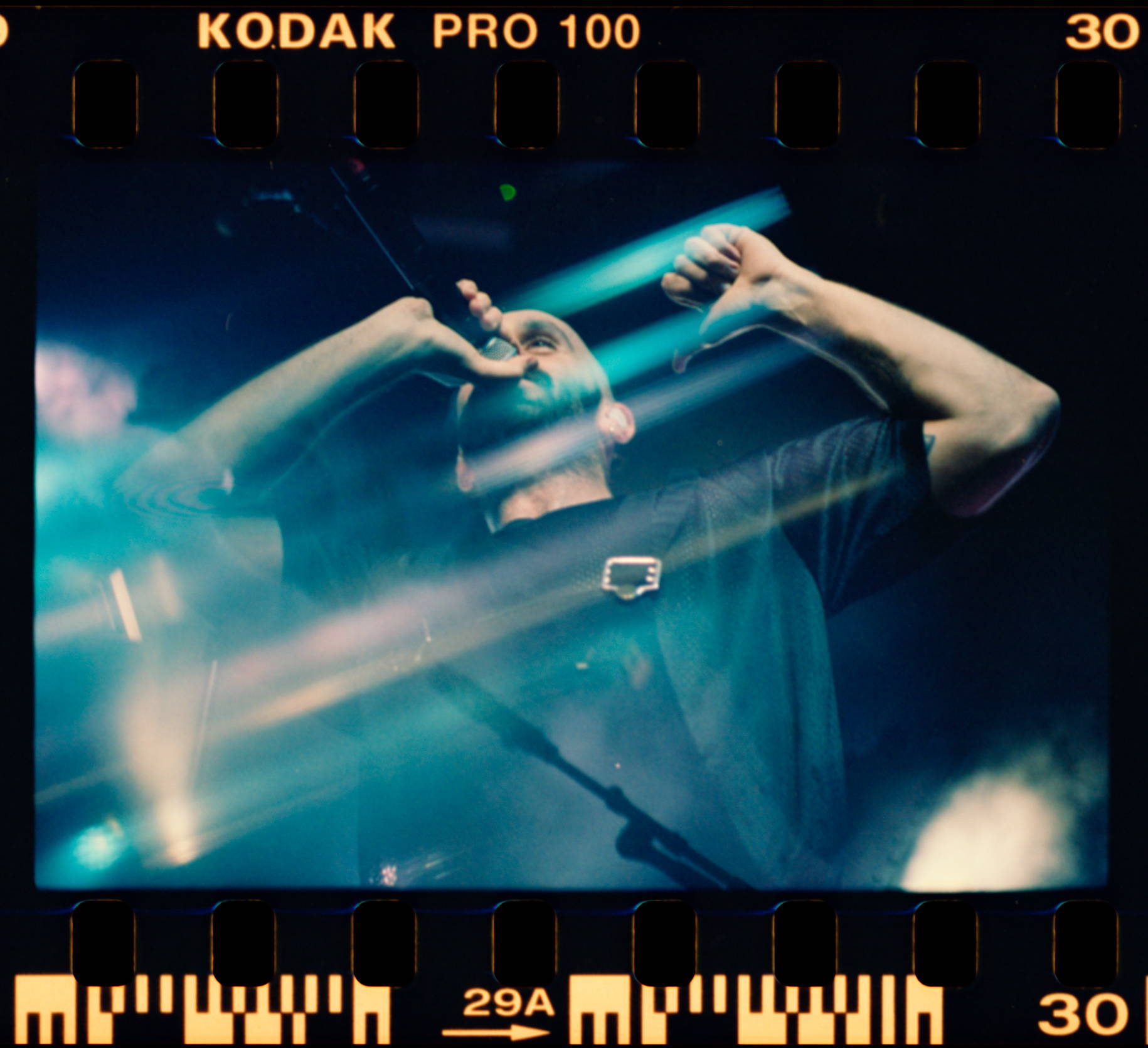 ---
Do you have advice for anyone wanting to set up a small business?

I have a couple of pieces of advice. Mainly that the devil is in the details. The one thing you forget to do will be the thing that ruins your day. And get into a routine. You won't get anything done without being strict with yourself and working out the best way to do things, so they are done to the highest standard in the shortest amount of time.
---
How do you find navigating social media whilst running a business, is there a particular platform you like using most and do you enjoy making content?
Social media is so powerful. If one of your videos goes viral on TikTok or Reels, you suddenly get this huge influx of new customers and questions and it's a bit crazy! That makes it really fun to do though. I love making content on any social media to be honest. If I can teach someone something or if seeing one of our videos is their first introduction to film photography, that is incredible to me.
---
Where do you get your content ideas from?
My crazy brain. And I try to think of the things that seem really obvious to me but other people may not know! Photographers love gatekeeping and keeping their techniques a secret from beginners, but I hate that! We all start somewhere and being kind to other photographers makes it so much easier for everyone.
---
Experiences of having an LGBTQ+ store (do you feel supported by the community, is there anything you would like to see more of etc)

The trolls haven't found me yet *touches a piece of wood*! Everyone has been super supportive of the shop and what we're trying to do. I broadcast that we are an LGBTQ+ business because I want people to know where our values are. We want our business to feel like a safe space and that we are creating a space in the film photography community that hasn't existed before.
Everyone knows the film photography community is heavily dominated by cisgender, heterosexual men. Since lockdown, I think everyone is a bit more socially aware of the space they take up in the world. As a result, we've seen a huge increase in female photographer spaces, particularly curated Instagram profiles compiling these great photographers. There is a lot of misogyny and other issues in the film community, but seeing the community come together to tackle them is really refreshing. Of course, there is a lot still to do and I have plans in the future to expand what Cameras By Max is in terms of an online presence.
---
What do you enjoy most about running a business/ being part of the film community
Running a business is so rewarding. Packing orders is my most favourite thing to do. It is just so satisfying to me to get a broken camera come onto my desk, get fixed and cleaned up, listed on the site and then sold to anywhere in the world. That's amazing to me! I get excited everyday knowing that today may be the day that we introduce someone to film photography or they get the new camera they have wanted for ages.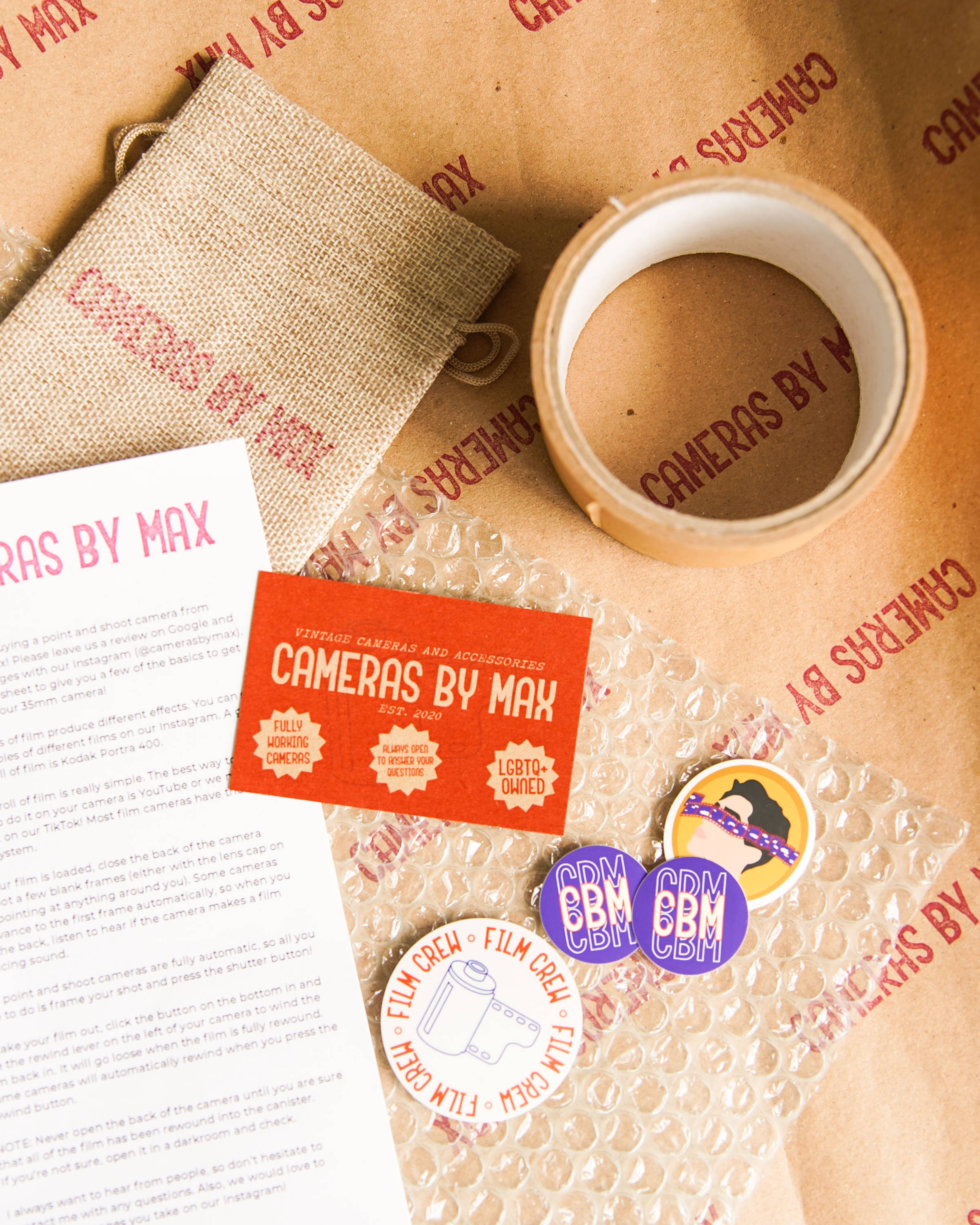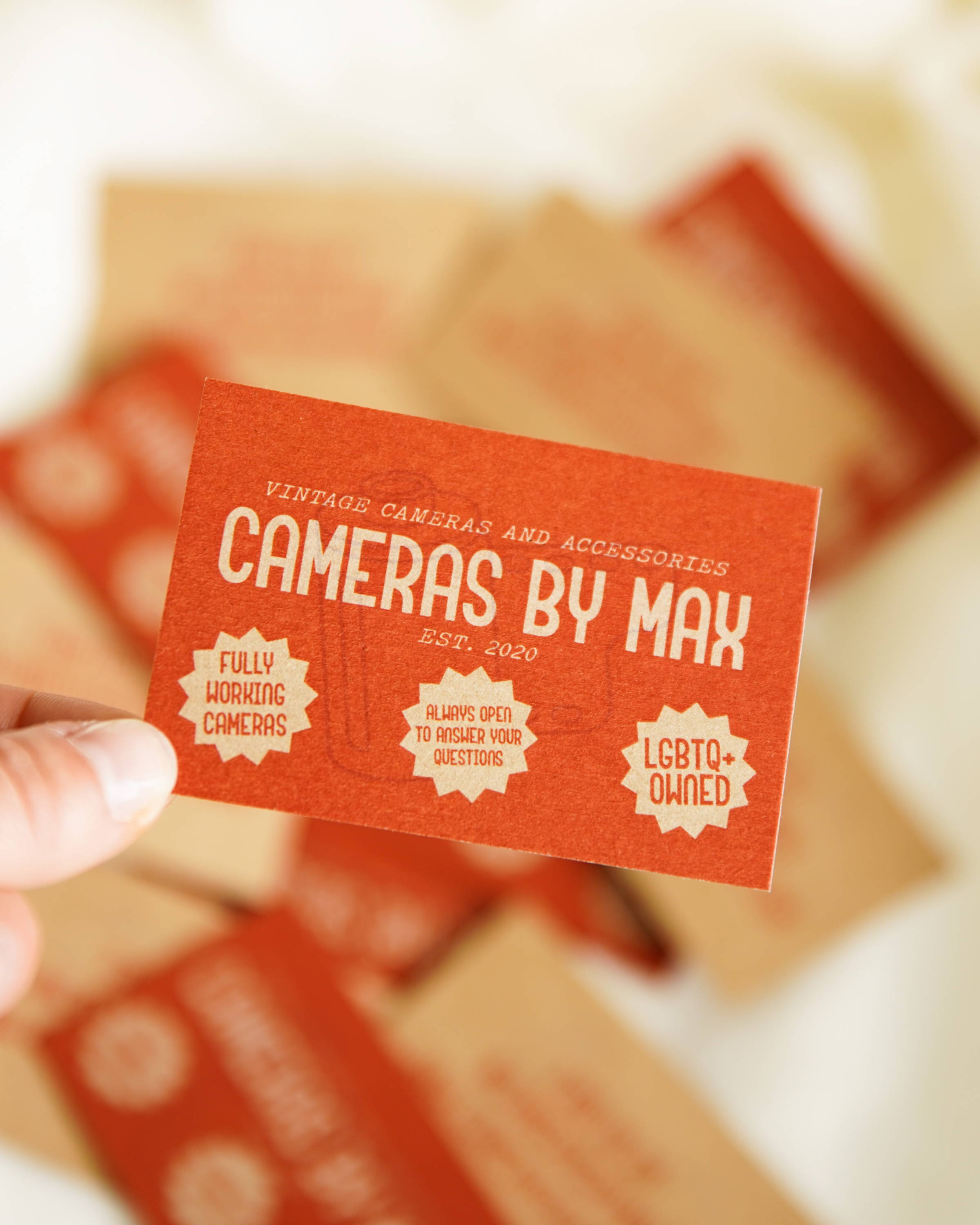 ---
The proudest moment for Cameras by Max
Getting our first order for our t-shirts was a definitely a highlight. It was the first piece of "merch" that we created and I was thinking, "oh my gosh, no one is going to buy one, they are only here for cameras" and then we sold out in 48 hours.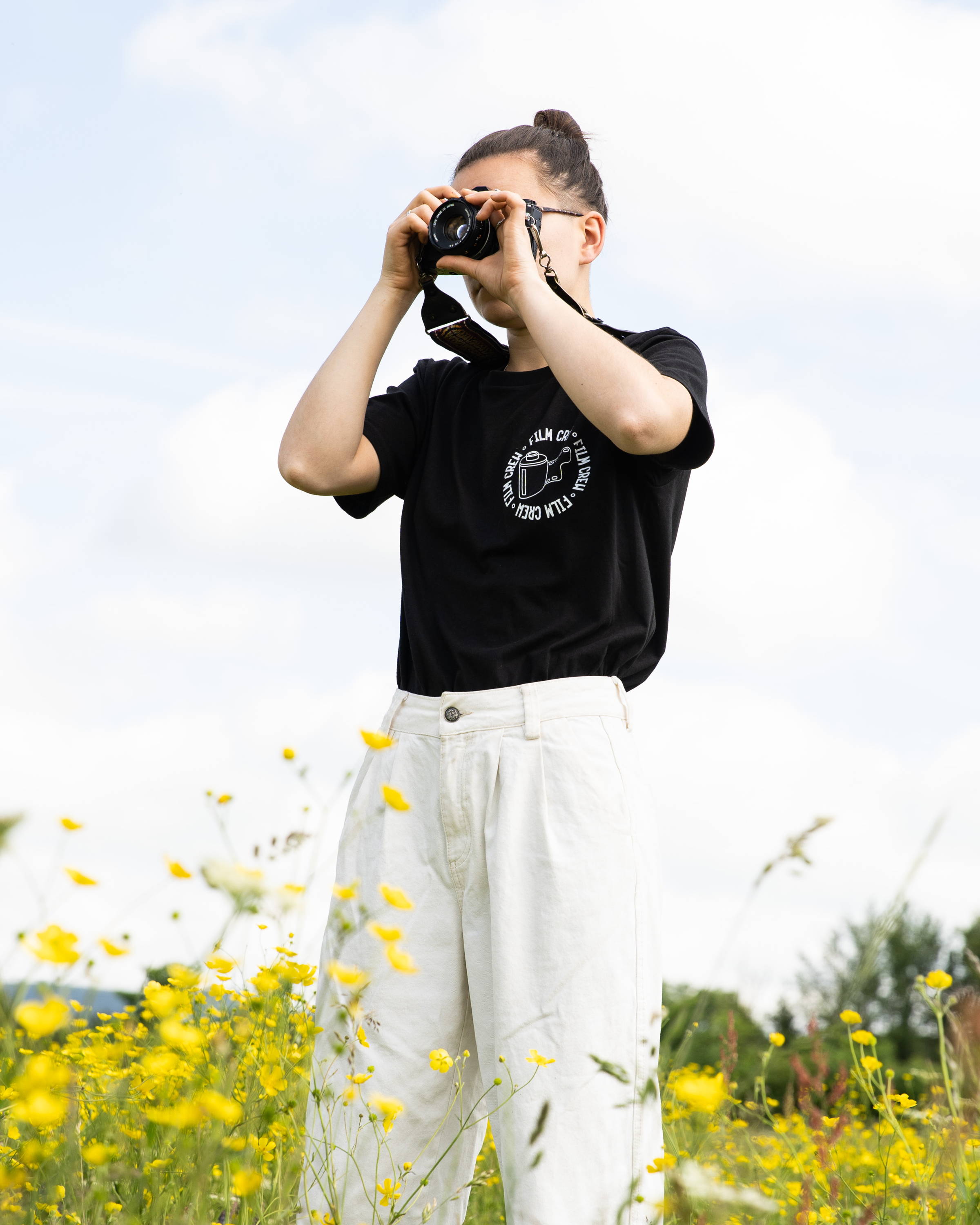 ---
Photographic goals (film/ camera that you would love to try)
This probably goes for a lot of people, but I really want to try a Contax T2. Midway through doing this interview, I bought one, so I guess you'll be seeing me going nuts with it on Instagram at some point. I get so excited by any new cameras I get though. Each one feels so different even if they are the same model. I don't know if that makes sense, but it always feels like no two film cameras are ever the same. My photographic goal in general is just to be able to do portrait shoots again!
---
Favourite camera you have sold that has been hard to part with

Recently we had a Yashica Samurai half-frame camera and it was the most fun I have ever had with a film camera. They're not amazing in terms of quality, but you hold it the same way you would hold a vintage camcorder and there's something about that I just loved. I felt badass using it. It's in New Jersey now and the person who bought it tagged me in a video of her opening it and she was so excited, so that makes me feel better!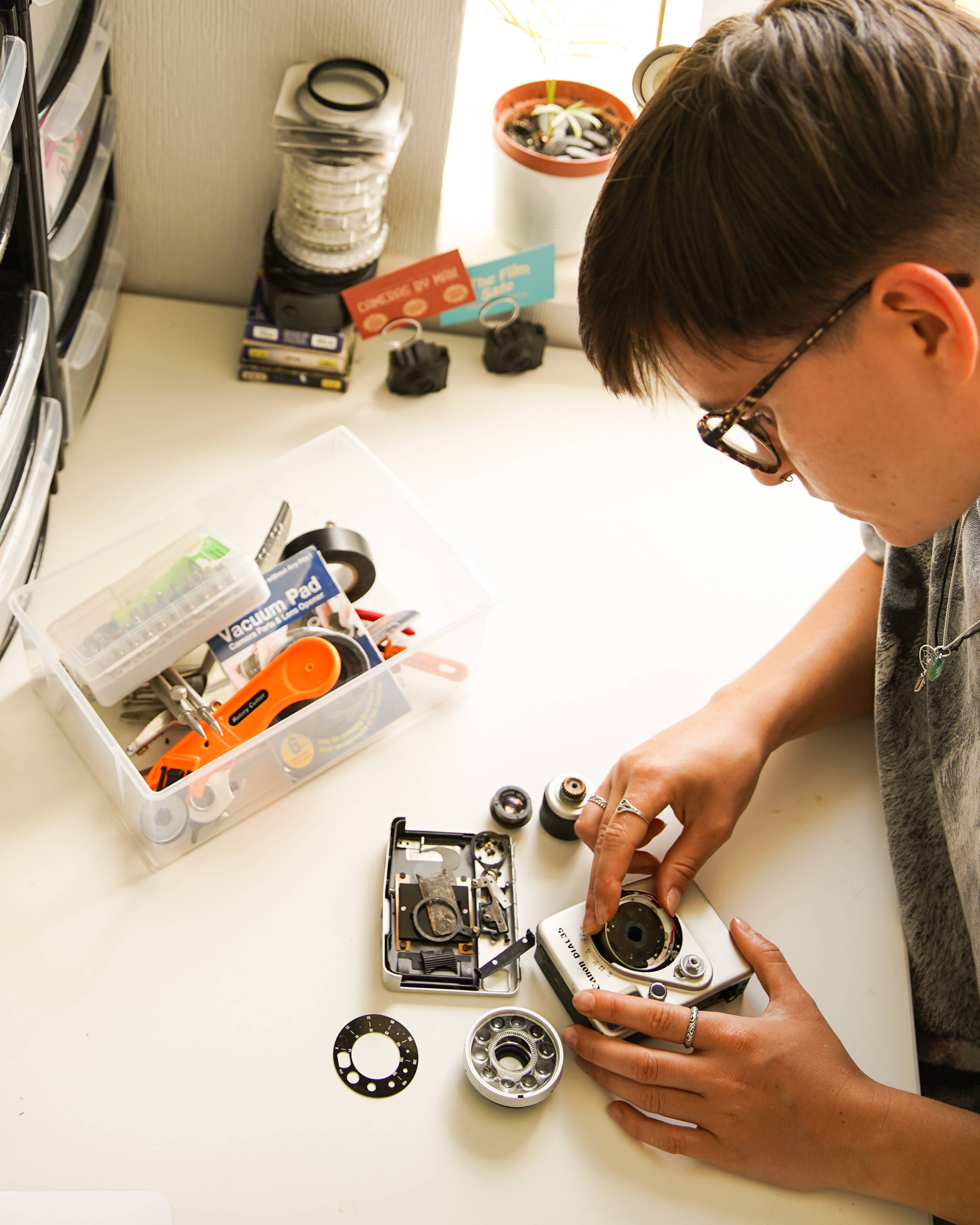 Do you have any advice for anyone wanting to try film photography?
Get a camera that excites you and just do it! If you're excited to use your camera, you'll want to go out and use it all the time. Just getting out there and starting to take images is the only way you'll learn what you like, what you don't like, how it works, and everything else will eventually fall into place.
---
What do you hope for the future of Cameras By Max?
We've been open for almost a year and we've already changed so much! We started off wrapping cameras in tissue paper and selling on Depop, but now we have our own website and branded packaging and lots of really lovely customers!
Short-term, I would love to have a space dedicated to the business, like an office where I can paint the walls in our colours and maybe get one of those custom neon signs (and play Justin Bieber too loud).
Long-term, I have this crazy vision of a huge space with wooden floors and white walls where we sell cameras, but there is also a darkroom in the back and a working studio and communal workspaces and everyone wears beanie hats and drinks soya milk and listens to The 1975 and [insert more film photographer stereotypes here]. Haha! But for now, I am just happy going with the flow. Oh, and I also really want to hire someone one day, and annoy the hell out of them, AND get them to do all the jobs I don't want to do. That sounds great. Who wants to apply?
---
It was so great to chat to Max, they are doing amazing work in keeping film photography going by refurbishing unwanted film cameras, all while representing the LGBTQ+ community. I love the ethos behind their store, the passion for sustainability and general enthusiasm for film. Max has created not only an amazing shop, but also a great platform for anyone wanting to learn more about film photography. We look forward to seeing the future of Cameras By Max!
You can find Max on instagram here @camerasbymax or on their website here https://www.camerasbymax.co.uk/