Products Only
Full Experience
Choose Your Service

Start with the format of the film you need developing.

You'll be able to add scanning and editing options at the next stage - and choose prints AFTER seeing the scans!

Need Help?

Hit the live chat in the corner of the screen to get talking to one of the team! See here for latest lab turnaround times
Products Only
Full Experience
Print Your Work

Transform your cherished memories and best photography into stunning wall art, prints, and more. Choose Photo Prints for sizes up to A4, and Poster Prints for everything larger: truly epic results!
Developing Your Film: How it works
With Analogue Wonderland you get to see your scans BEFORE having to choose whether you want to pay for prints or not!
Start by choosing which film you need developing from the options at the top of the page, then select the type of scanning and editing you'd like.
Send your films to our film lab with the FREE tracked shipping label we provide for you - for ultimate peace of mind.
When the scans land 😍 simply choose which images you'd like us to print, and we'll pack it all up and send it back to you.
Minimal waste, maximum photography: the Analogue Wonderland way!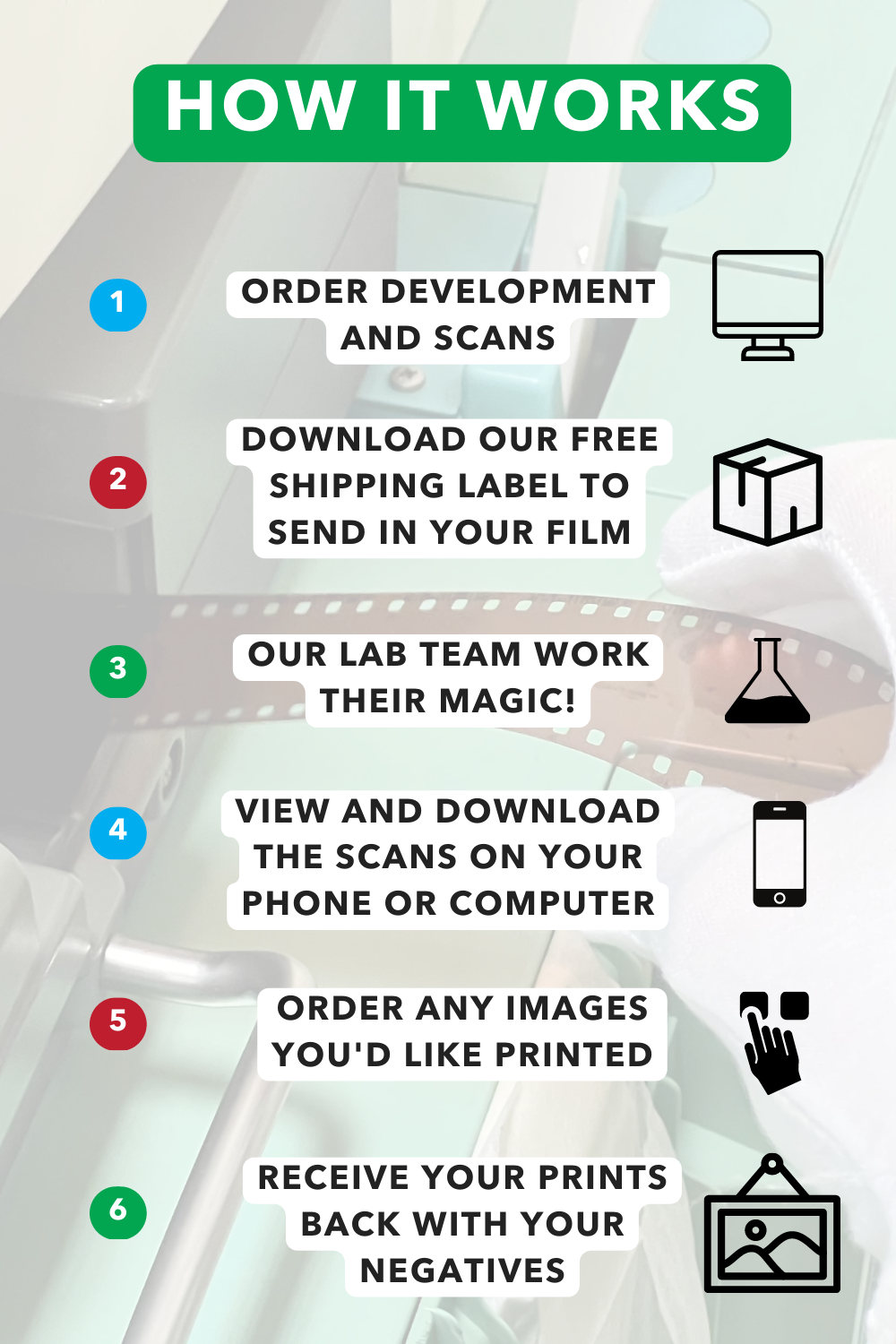 Film Developing - Process your Films
The Analogue WonderLab is an independent UK postal photo lab, offering mail order film developing and scanning for your precious negatives 🎞 We use chemistry and analogue magic 🪄 to develop your exposed film into negatives that can be scanned and used for printing your images.
The Analogue WonderLab is the perfect place to send your photo film for developing in the UK. We can process 35mm film, 120 film, develop disposable cameras and 110 film - with more options on the way.
If you want your film developing by post then our FREE tracked postage on inbound parcels makes the experience easy and straightforward. You can send in your films worry-free for fast film processing. Our film lab UK team has years of collective experience and will ensure that you'll get perfect development and scans every time.
You can trust our team of professional photography editors to process your films to the highest quality.