WonderLab Update: Week 1
Posted on October 22 2021
Thursday 28th Oct: further update.
While lots of things with Saturday's engineering visit went well (multiple small gremlins found and fixed) there's one big thing that hasn't yet improved. This is to do with the blades that are meant to cut the film when the full reel has been pulled into the first chemistry bath. Unfortunately ours are no longer reliably cutting all the way through, which can cause temporary jams through the process - and also risks more serious damage to the machine if loose plastic gets pulled into the wrong cog! We've seen it deteriorate across this afternoon and have had to make a fast decision:
We are temporarily pausing all processing until new blades can be sourced and fitted.
This also extends the expected turnaround times for films already received to 2-3 weeks.
This is to protect your films from being affected by a poor cut, as well as protecting the machine from any knock-on issues. While this only directly affects the colour, we've decided to pause B&W as well so the team can focus on getting this issue fixed.
Clearly this is gutting for our team, as well as for any customers who have already sent in colour films. We will be individually contacting everyone who has sent in films and offering the option to either (a) wait until the blades are sorted, or (b) have their films returned - free-of-charge and with our apologies.
Incidentally this is bringing home to all of us just how difficult it is to operate a faultless service on 20-year old machines. So Mary, Marina and I are going to use this 'waiting time' to plan how to strengthen the WonderLab, to make us less reliant on any one single piece of equipment, and also to use what we've already learned to improve the service we offer... Watch this space!
---
Posted Oct 22nd:
What a week! We have been overwhelmed with the support, the kind messages, and most importantly...your orders 😂
It's been an amazing time for the whole team as we've got to enjoy the opening party, and start to feel the benefit of the past 6 months of hard work.
However! As is common with new businesses - and the WonderLab definitely feels like a 'new business' inside of AW - there have been a couple of hiccups which will have a short-term affect on the turnaround timings for processing and scans.
So with our usual transparency and optimism - Marina and I wanted to share these with you!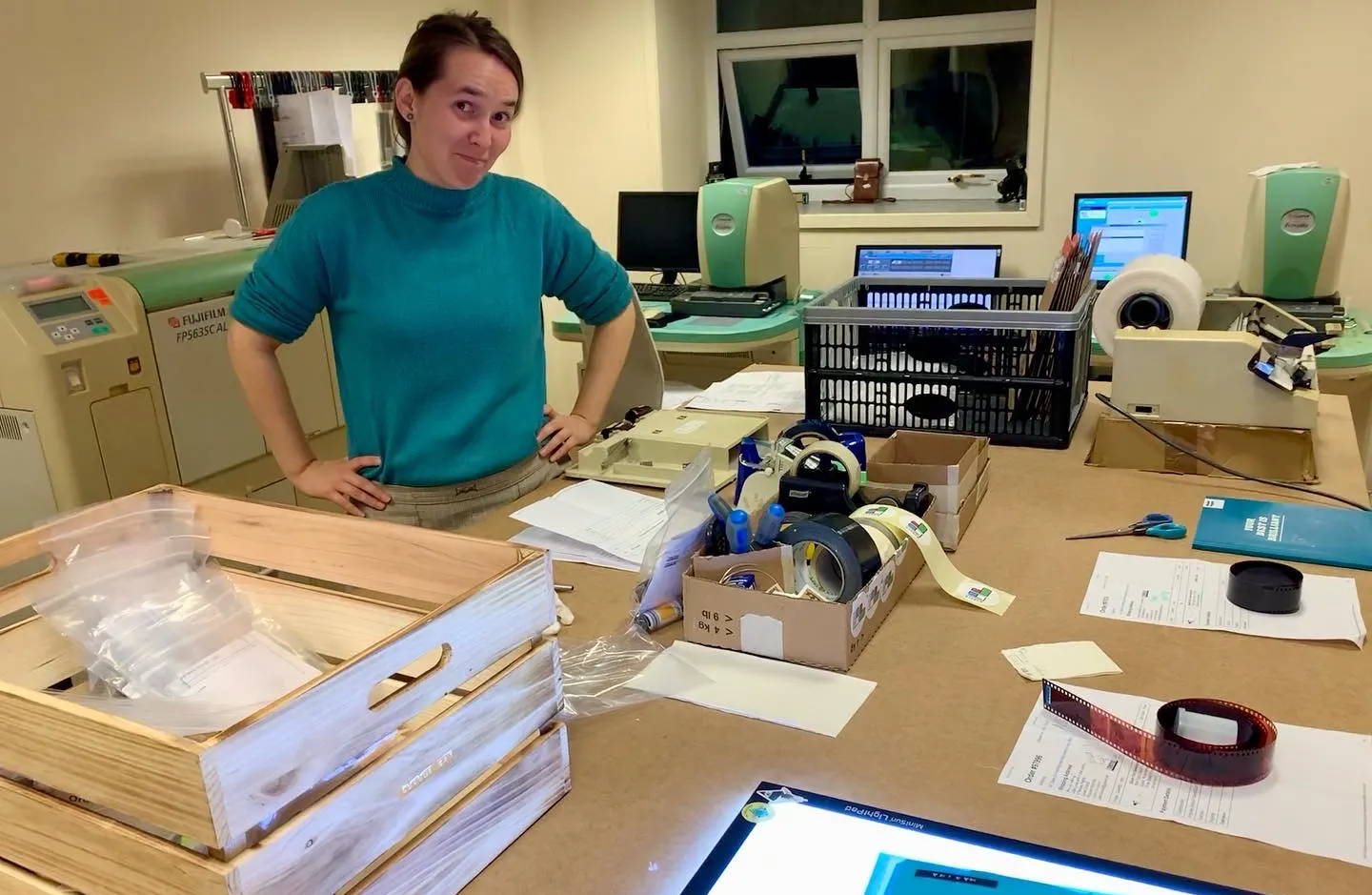 ---
Effectively three things have happened:
- you have sent us more films than we expected (YEY thank you! 🤩)
- we therefore ordered more developing equipment to cope with the volume...which we then learned are out-of-stock with our dealers, thanks to all the global supply chain issues going on at the moment 😢
- and then finally, our C-41 machine started misbehaving late last night, doing things slightly unexpected 🤪 which was enough for Marina to shut it down and call out the engineer. We won't restart it until it is back to sparkling perfection and retested fully. That should be happening tomorrow.
What this means for turnaround:
We are currently expecting turnaround times of 5-7 workings days on both colour and B&W instead of the 3 working days which is our ongoing goal. This is based on certain assumptions re: when things come back in stock and how the machine responds over the weekend, but we will keep you all updated as we go.
---
A message from the WonderLab team:
Hello beautiful people!

We are still stunned by the amount of support and love we have received since the opening. This is truly a dream come true in huge letters! That's why we want to send you our eternal gratitude and all the love and affection in the world.

At the moment, thanks to receiving a quite unexpected amount of orders, the team and I are working hard to process all your films as we assist you. Under no circumstances do we want to compromise the quality of our service or the attention your films deserve, so please be patient and understanding of the situation. We are doing everything we can to get back on track quickly, and with the same high level of care.

This is a wonderful thing for us as you are providing us with the right challenges so that after this, we can become an amazing team and give you even better service.

Thank you very much for everything and for your infinite love,

Best wishes from the Analogue WonderLab team:
Marina, Sebastian & Helena
---
---
If you have any questions or concerns about the above then please reach out to us and the team will be able to help you.
And in a week where hundreds of customers have safely received back their films processed, scanned, and sent with love - I'm not going to end this note on a downer. Instead I will share some of the first ever WonderLab images! Enjoy 🥰
- Paul