Silberra: a short update
Posted on February 21 2020
Silberra's venture into producing their own film started with an Indiegogo campaign at the end of 2017. The goal was relatively straightforward - to upscale their operation to create a global brand from the project.
"We need your help to start mass market production for Silberra film! We've already made test batches and you're able to find a lot of Silberra film shots at our Instagram. You'll see the product both is real and the quality of the film is outstanding! We've started this campaign to help upscale our manufacturing facilities in order to offer these new films throughout the world. We won't manage upscaling without your help!"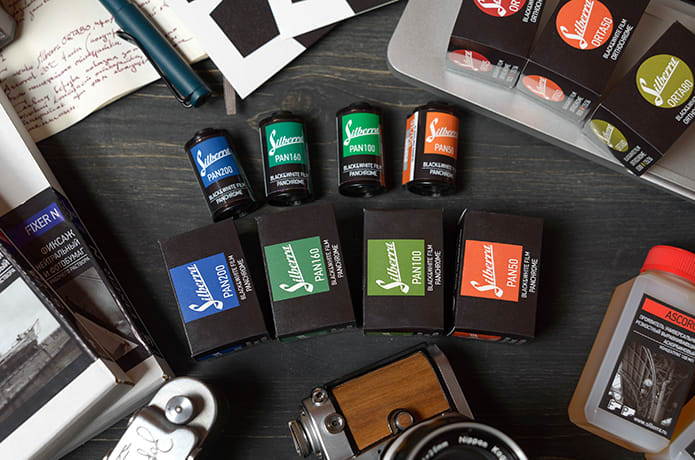 ---
While they reached just 30% of the targeted amount, this was enough to give them the impetus to take the idea forward. However having a straightforward goal doesn't naturally translate into it being easy!
Sure enough, problems began soon after the completion of the campaign. The first barrier - getting prompt payment from Indiegogo into a Russian bank account - was followed by their packaging partner pulling out of their agreement in early 2018. Across the rest of the year and 2019 there were more issues related to shipping between EU and Russia, and various other temporary shortfalls in money or materials. You can follow the story in the 'Updates' section of their Indiegogo page.
However the rewards started to be released and in August 2018 they had made enough of certain films to provide limited stock to retailers: you can read our announcement at that time in our blog post 'From Russia with Love'.
---
Communication Frustrations
It is clear that after the completion of the campaign and during the sporadic release of rewards, there were several backers who were frustrated with the level of communication from Silberra. The frequency of the information released on the issues and updates were seen to be insufficient and specific emails were often left unanswered for long periods of time.
This has lead to a general feeling in the film community that Silberra are frustrating/untrustworthy and there is a fear that the promised rewards will not materialise...
While I (Paul) did not personally back the campaign at the time, so cannot speak for the communication that backers received - I understand the frustration and have worked with Konstantin (the main man behind Silberra) on a statement for everyone who feels this way. Please note that I've left it with minimal editing - we felt it's more important that you hear directly from Konstantin than I correct small grammar mistakes from someone writing in a second language!
For what it's worth - as a retail partner we've found Konstantin and his team to be 100% reliable and honourable. We've also experienced firsthand some of the external challenges of working across European/Russian borders (!) but I can happily add my personal belief that everything written below will come to fruition, and Konstantin is working hard to do the best job possible - while also running his 'day business' in photography retail!
---
"Yes some backers are still waiting for their perks (approximately half of the whole). Yes, there are difficulties with 120 film format, we hope to have them solved this year; the rest of the backers are getting their perks in portions. The last portion was sent through December, 2019, the next one shall be sent within a couple of weeks. We plan to issue another update in March for those who read updates at Indiegogo.
While we were going through IG campaign we had enough time to post updates and do talks in social media. Since the moment we've closed the campaign I can hardly remember more than 20-21 days off through the last three years and just don't have enough time to repeat the same information in different synonyms: we do work, we keep sending the perks, we have to overcome lots of difficulties since the initial arrangements we made we broken by our partners due to their own reasons, etc. The simple fact is that we have to do a lot still to fulfill most of the promises with about 30% of the funds raised through the campaign. But we plan to keep those promises and everyone who gets their perks now gets something extra except their perk: a film or two out from the new assortment we've managed to launch past the campaign.
As soon as we'll publish the update I'll let [Analogue Wonderland] know for you to repost it for your audience. We're not annoyed by the reaction of some of the backers, and we can't even be disappointed as we do realize that the initial plan and promises were failed. While it was not our fault still we're the only ones responsible for our plans and promises; we do stick up to fulfill all of them and do work to make it happen. And while crowdfunding is always backing with some risk; we don't plan to use that excuse to avoid sending the perks to backers. But we would like to use that formula to remind that some problems may arise within any crowdfunding project and those problems may lead to different consequences, including delays. Not a single backer shall be left without his reward (though some rewards may be changed), but it takes time.
We thank everyone for their patience and understanding so far, and plead that they continue to support us as we work through the remaining 50% of rewards."
---
If you are an Indiegogo backer and have further questions then please pick up directly with Konstantin through the platform. If you'd like to ask more general questions about Silberra and the project then I'm happy to discuss via our normal email/phone (head over to our Contact page for your choice of communication!) and anything I don't know immediately I can pick up with Konstantin in our next catch-up.
If this whole article has made you curious to learn more about the specific range then you can see all their films in our store on the Silberra film page or below for the best-sellers.
---
---
Many thanks and Happy Shooting!
Paul