Washi F Film Review
Posted on June 14 2021
Our Washi F review combines the community's comments, recommendations, sample images and feedback to give you an excellent overview of Washi F's strengths and weaknesses!
Produced for Analogue WonderBox subscribers in June 2021 but helpful for everyone wanting to learn more about this unique fluorographic film and the story behind its invention 😊
---
Film Washi was founded in 2013 by Lomig Perrotin in a cupboard of his flat in Paris, and later in the family garage in Saint-Nazaire. Film Washi grew up while staying a one-man-business. The company's facilities are now located in decommissioned French Army containers, somewhere in Britanny.
The company's ethos is based on values of innovation, simplicity and ecology. The adopted processes link it to the Maker and DIY movements: recycling takes an important part in the making of films, and many production tools (including 120 rollers, 135-cartridge loader, or IR glasses) have been made out of recycled parts.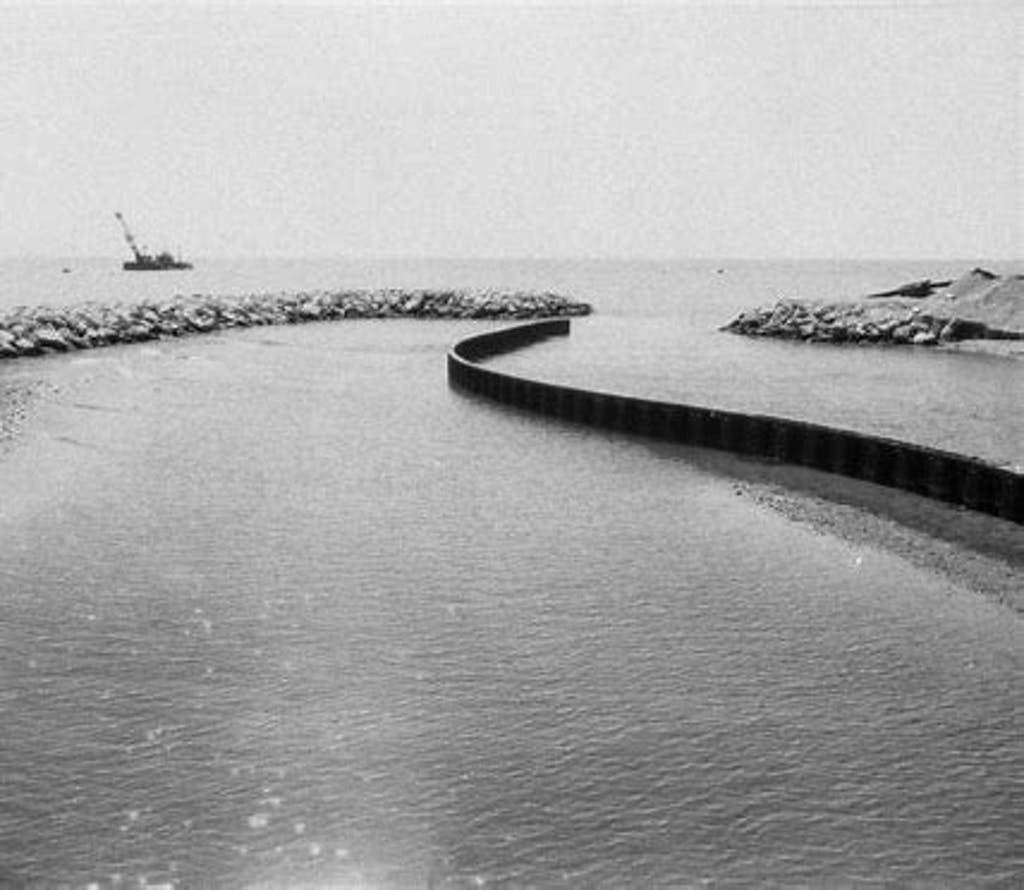 ---
Washi F is a special "Fluorographic" medical X-Ray film from the Washi range that is mainly used in Eastern countries for diagnosing lung diseases. Fluorographic simply means that the image is produced on a fluorescent screen by X-rays. It combines the aesthetic of X-Ray films with the physical properties of classic camera film, giving nice grain, detail and halation.
Lomig started converting medical X-Ray film into sheet-film for large format photography - three or four years ago he was buying bulk packages of sheet film and recutting it into 4x5, 5x7 or 8x10 formats. Sadly the sales were not as expected Lomig came to conclusion that there are 2 kind of peoples using large format:
Those who want ultra precise and predictable results (which is quite normal when you carry heavy gear for hours to come back with only a handful of pictures!) and they have no interest in strange and unpredictable film stock like film W or X-Ray.

Those who like to experiment with different film stock and expect unpredictable material like positive paper, negative paper etc.. and also like X-Ray film but who are also sufficiently skilled to buy it on ebay and recut it themselves for less money.
But Lomig still loved the aspect of X-Ray film when shot in a camera, so he purchased special X-Ray film stock which were not in sheet but in rolls of several hundreds meters to make into 35mm format film.
The machine Lomig uses to convert the film to 35mm!
---
Washi F was a film used for X-rays. The reason this film is made in roll format is because its purpose is mass diagnosis of lung illness (like tuberculosis). Special trucks equipped with a mobile X-Ray machine would go through the countryside and scan everybody in each village. At the end of the campaign they would process the film rolls and send out the results
With fluorographic film it is not actually the X-Ray that exposes the film - photographic film is sensitive to X-Ray but only at such a dose that it would burn everybody around! This film, like most X-Ray film, is used within a special cassette filled with fluorescent material that will glow in reaction to a smaller dose of X-Rays. This is the glow that actually exposes the film.
That is why X-Ray film does not have an anti-halation layer: it is not needed as traditionally they are exposed by coming into contact with the fluorographic cassette. When you use it in a classic camera the light going through the film is heavily reflected by the back layer of the film, creating this glowy, ghostly effect.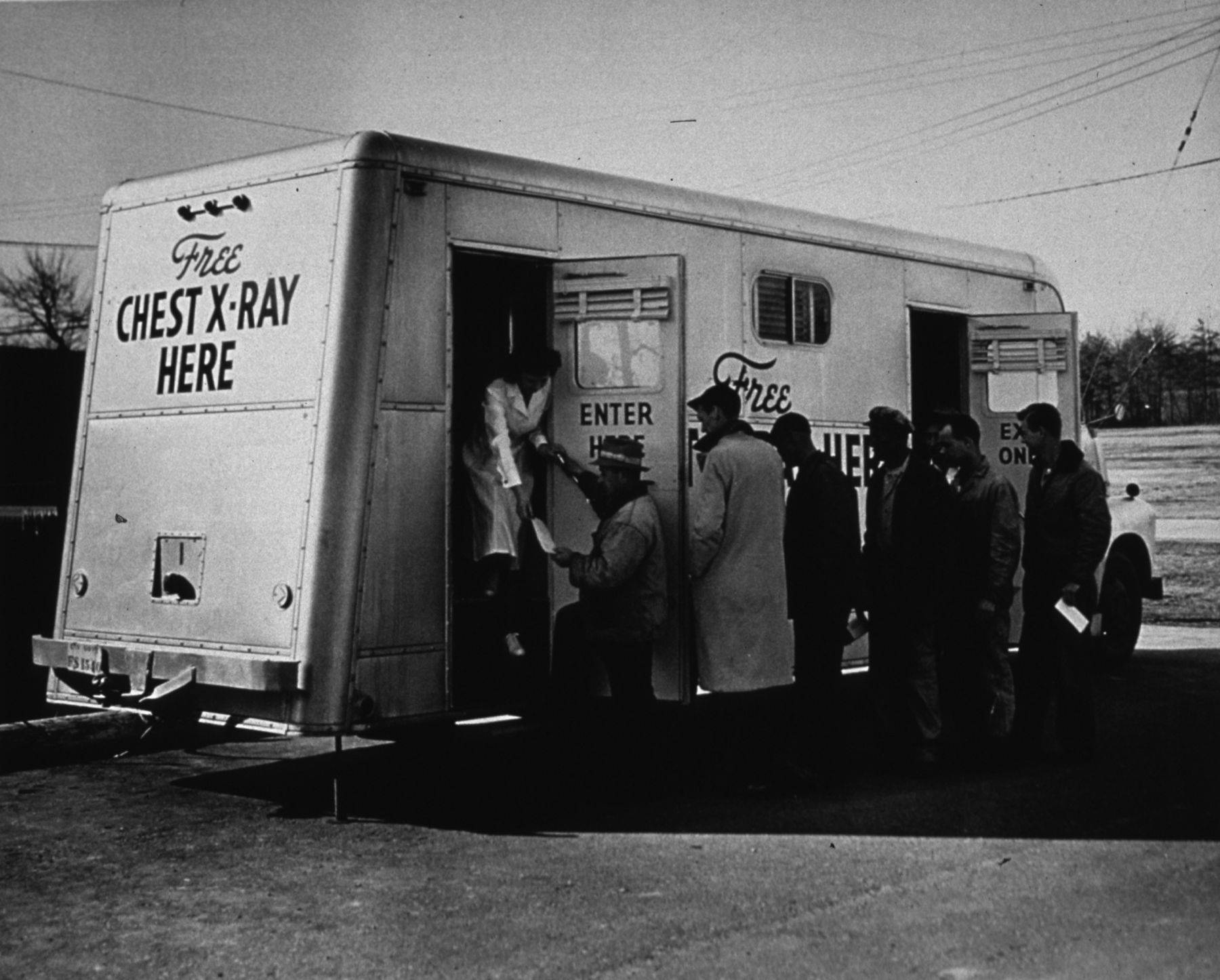 Example of a chest X-ray van circa 1950
---
What to expect from Washi F Film
Washi F is an orthochromatic film. It is coated on a blue polyester base (to ease the doctors' eyes) so you will have a very special blue negative! This particular film, made for Fluorography technic, is coated on one side only and on a 100 micron polyester base (instead of 175 micron for X-Ray sheet films), making it possible to convert it in 135 or 120 formats.
When Lomig first received and shot samples of this film, he loaded his camera and shot random pictures of my garden, just to test how sensitive it was. When he processed it and looked at the negative, he said to his wife : "too bad, the negative looks too "normal" for a Film Washi product, this will not work!"
However, when he scanned the negative he was puzzled by the pictures because they were anything but normal, so don't judge your photographs by the first look at the negatives! For example, the picture Lomig took of his garden shed, Lomig describes it as "now looking like a serial killer hideout filled with bodies!"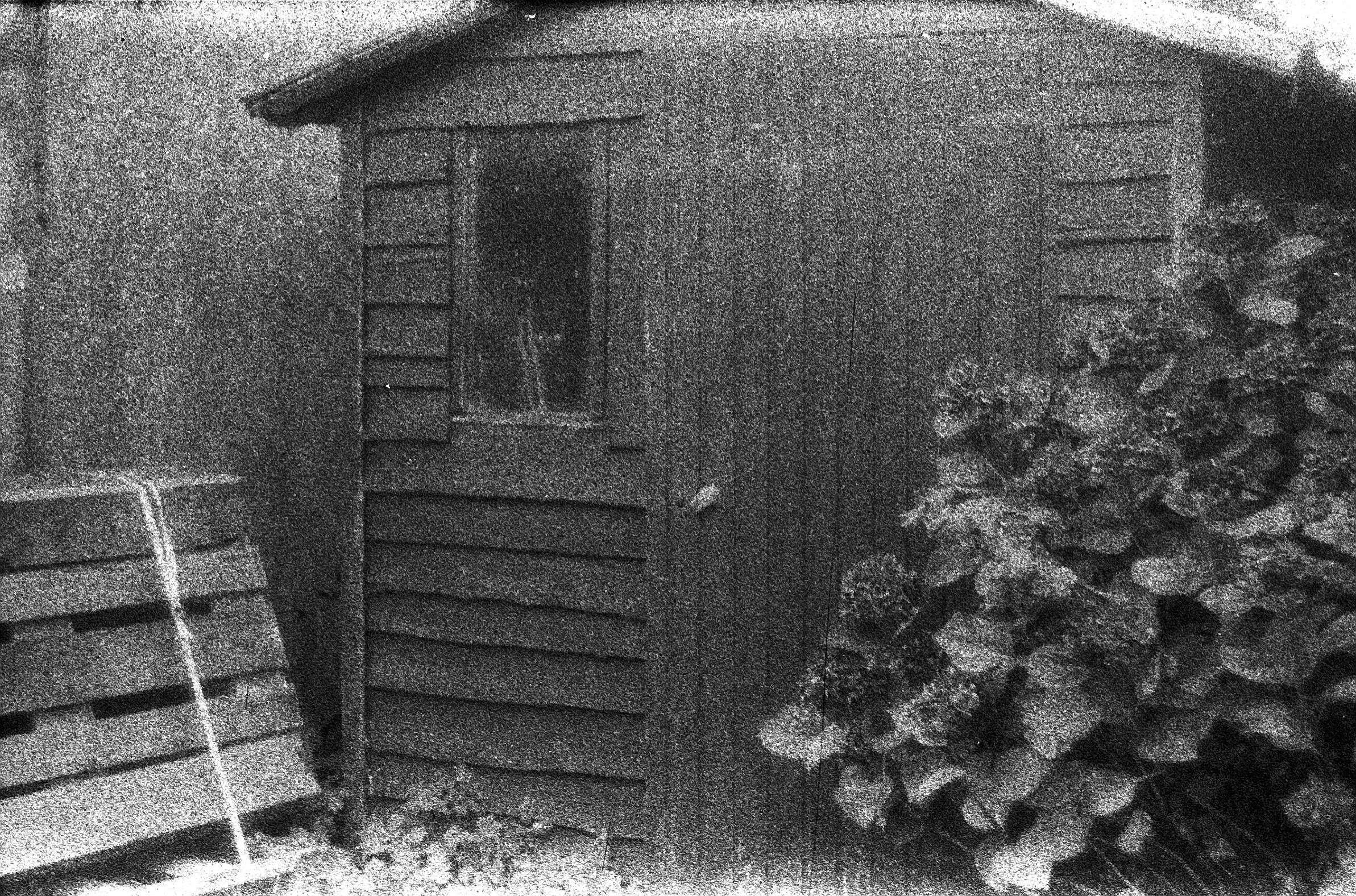 Lomig's creepy shed shot on Washi F
---
As there is no anti-halation layer, this film is really sensitive to light piping, so in 135 format, Lomig recommends shooting 6 blank shots right after loading the film to purge the first part of light leaks through the film leader. Even after this operation you will still have 24 available exposures because the film is loaded with an extra length of 15 centimetre (1.40 meter in total) compared to a classic 24 exp. film (1.25 meter).
As this is an orthochromatic film it is not sensitive to the red light, so if you load your Washi F under a red light (or in a film changing bag) then you do not have to purge the leader part and will have 30 exp (24+6) instead of 24 exp.
---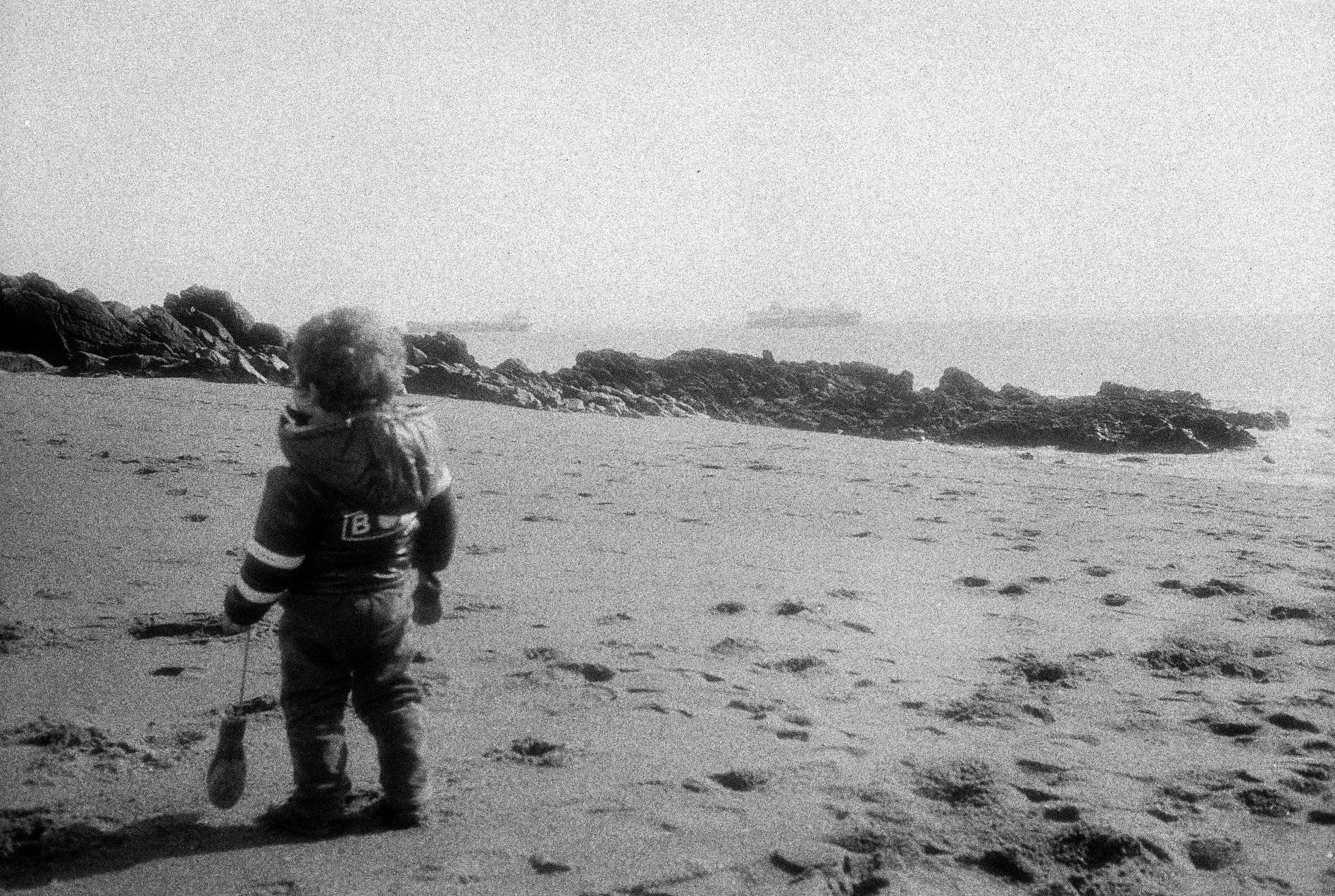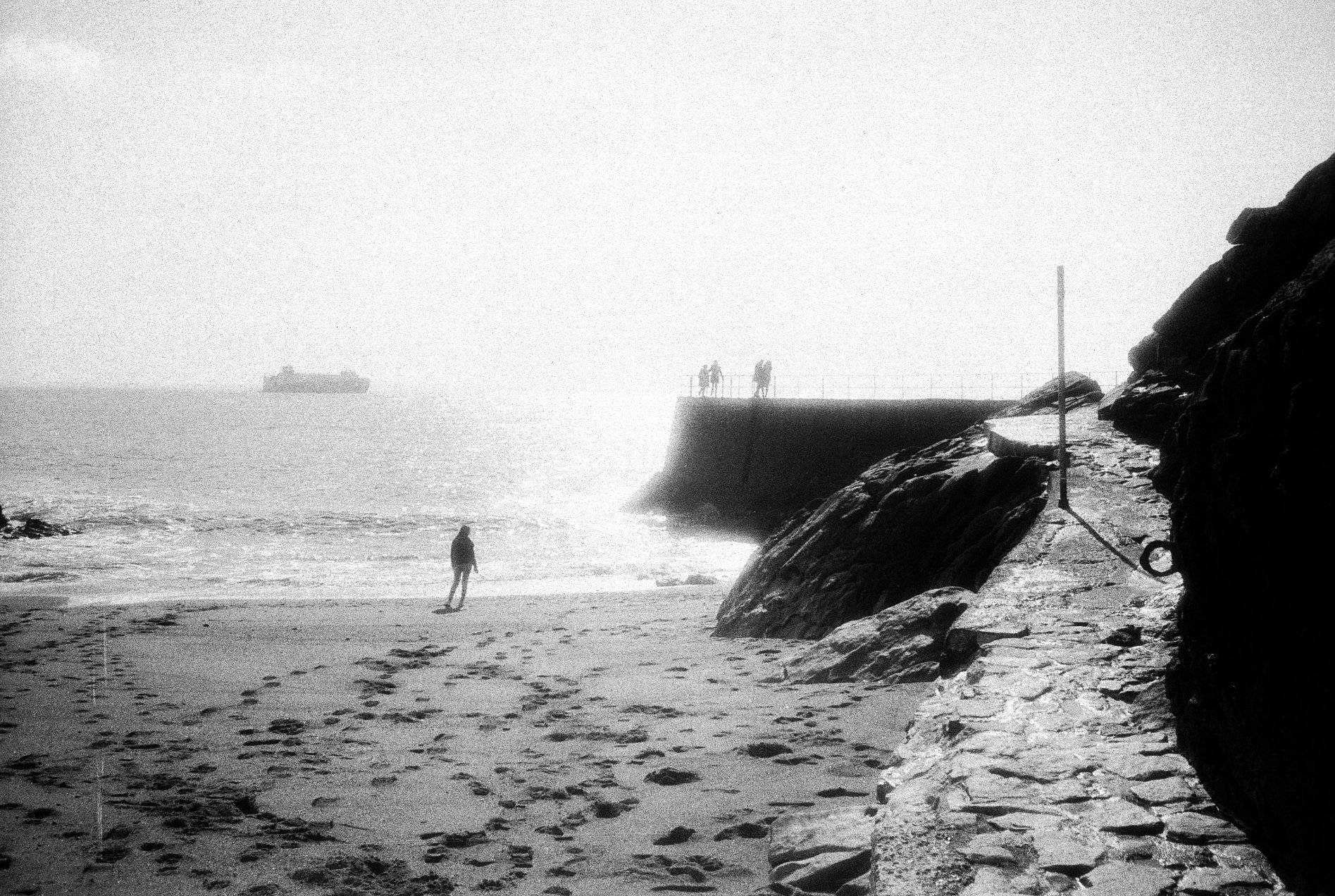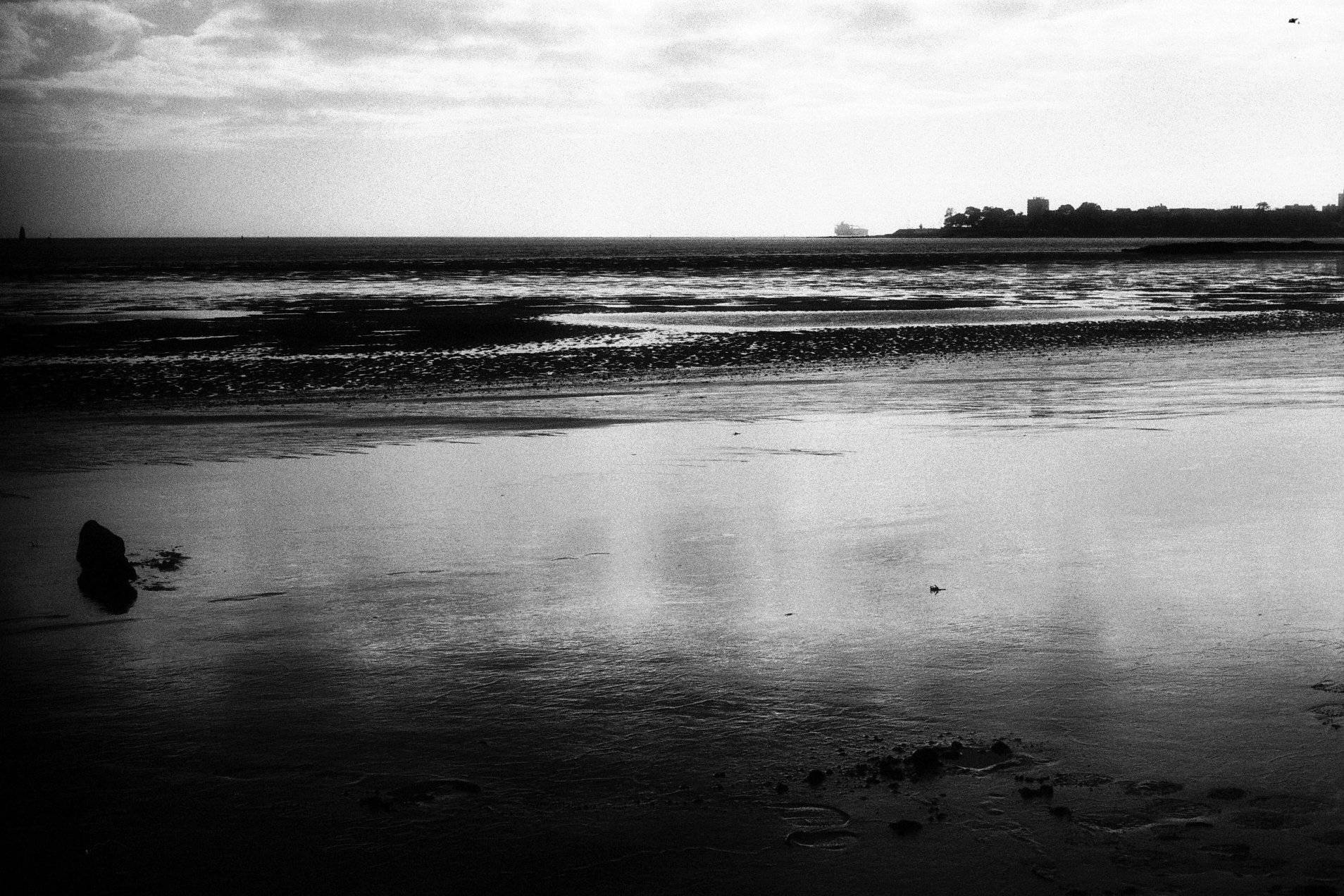 ---
Orthochromatic Washi F is one of our more unique films, it is also available in 120 format and can bring a haunting ghostly atmospheres to your images. For full techs and specs please see the product description down below.
---
---